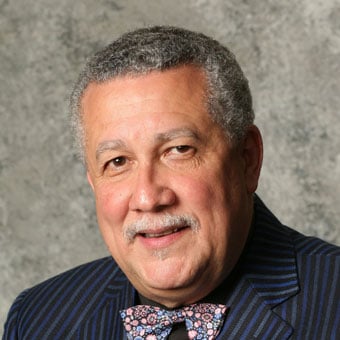 Paquito D'Rivera
b. 4 June 1948, Havana, Cuba
Der mitreißende Komponist und Musiker Paquito D'Rivera ist in einer Vielzahl musikalischer Stile zu Hause und hat die amerikanische Musik in Latin, Jazz und Klassik beeinflusst. Bereits als Teenager spielte er im kubanischen Nationalorchester; später gründete er das Orquesta Cubana de Música Moderna und die Formation Irakere, deren explosive Mischung aus Jazz, Rock, Klassik und traditioneller kubanischer Musik eine bahnbrechende Wirkung auf die Musikszene Kubas ausübte.

Seine bislang über 30 Aufnahmen haben D'Rivera acht Grammys eingebracht; Merengue (2004) für den Cellisten Yo-Yo Ma gewann den Grammy für die beste klassische Komposition. Als Klarinettist und Saxophonist ist D'Rivera mit den Londoner und den Warschauer Symphonikern aufgetreten, dem National Symphony Orchestra, dem Baltimore Symphony Orchestra, den Philharmonieorchestern von Florida und Brooklyn und dem Orchestra of St. Luke's. Ein Guggenheim-Stipendium im Jahre 2007 war ebenso Ausdruck der Anerkennung seiner dynamischen kompositorischen Fähigkeiten wie die Ernennung zum Composer-in-Residence 2007-08 beim Orchestra of St. Luke's am Caramoor Center for Music.

Die staatliche Kunststiftung National Endowment for the Arts (NEA) ernannte D'Rivera 2005 zum NEA Jazz Master; im selben Jahr überreichte ihm der Präsident der Vereinigten Staaten im Weißen Haus die nationale Kunstmedaille. Die Berklee School of Music verlieh ihm 2003 einen Ehrendoktor der Musik, und die National Hispanic Academy of Media Arts and Sciences ehrte ihn mit dem jährlichen Musikpreis für sein "herausragendes Schaffen". Im Kennedy Center wurde D'Rivera 2007 ein Living Jazz Legend Award überreicht, und von der Jazz Journalists Association wurde er zweimal zum Klarinettisten des Jahres gewählt. Im Jahr 2003 schaffte es D'Rivera als bisher einziger Künstler, Latin Grammys sowohl in der Kategorie Klassik wie in der Kategorie Latin Jazz zu gewinnen.