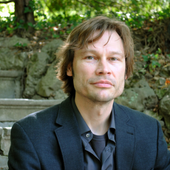 Marius Felix Lange
b. 1968
• Very few composers have succeeded in gaining such international renown in the genre of German-language children's and family opera as Marius Felix Lange
• The musical dramatist's appealing musical language, rich in imagery and sound, is quite gripping, adapting a range of literary models into his own style
• First success was Das Opernschiff oder Am Südpol, denkt man, ist es heiß (The Opera Ship or At the South Pole, You Think It's Hot) (2005) based on a text by Elke Heidenreich
• Following operas included Snow White (2011), Das Gespenst von Canterville (The Canterville Ghost) (2013), Vom Mädchen, das nicht schlafen wollte (About the girl who did not want to sleep) (2014), Die Schneekönigin (The Snow Queen) (2016), Krieg. Stell Dir vor, er wäre hier (War. Imagine It's Here) (2018)
• Recent stageworks include Momotaro, der Pfirsichjunge (Momotaro the Peach Boy) (2019), Der Gesang der Zauberinsel (The Song of the Magic Island), Wie der Rasende Roland wieder zu Verstand kam (How Mad Roland Came Back to His Senses) (2019), Schellen-Ursli (Jingle Bell Ursli) (2019) and an adaptation of Georges Bizet's Carmen (2020)
• The composer himself wrote the libretto for most of the operas
• In 2012, Lange received an "honourable mention" in the International Encore Composition Competition from Hilary Hahn, who premiered his piece Nutcracker's Nightmare for violin and piano.
Works by Marius Felix Lange include:
The Snow Queen opera in 2 acts (2016)
The Sorcerer's Apprentice for medium voice and piano (2012)
Three love songs for soprano and string sextet (1999)
The orchestra is getting dressed (2013) for narrator and orchestra
The Canterville Ghost (2013)
Works by Marius Felix Lange are published by Boosey & Hawkes / Sikorski
Visit the website of Marius Felix Lange at
http://www.mariuslange.com
"It is an essential challenge and necessity to develop a personal, harmonic language that is clear, not interchangeable and compelling in its effect on the listener." — Marius Felix Lange