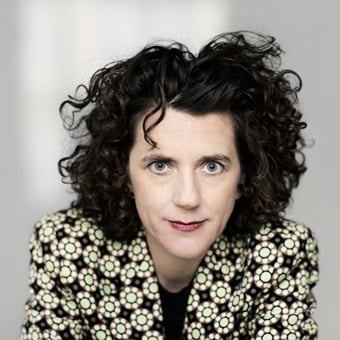 Olga Neuwirth
b. 4 August 1968, Graz, Austria
Cours de trompette à partir de l'âge de sept ans
1985–86 Etudes au Conservatory of Music de San Francisco (composition et théorie avec Elinor Armer) ainsi qu'au Art College de San Francisco (peinture et film)
1987–93 Etudes de composition à la Hochschule (Conservatoire supérieur) de Musique et de Théâtre de Vienne. Classe de composition d'Erich Urbanner (Diplôme et mémoire de Maîtrise sur le sujet : « L'utilisation de la musique de film dans L'amour à mort de Jean Resnais ») et études à l'Institut d'électroacoustique.
La rencontre avec Adriana Hölszky, Tristan Murail et Luigi Nono fut une stimulation précieuse pour le travail d'Olga Neuwirth.
1993/94 Etudes avec Tristan Murail à Paris ; participation au stage d'informatique musicale de l'Ircam à Paris
1994 Membre du jury de la Biennale du nouveau théâtre musical de Munich ; membre du forum des compositeurs aux cours d'été de Darmstadt ; « Prix Publicity » de l'Austro Mechana pour une production CD
1996 Invitée du DAAD à Berlin
En 1998 deux concerts portraits présentent Olga Neuwirth au festival de Salzburg dans le cadre de la série « Next Generation »
1999 Prix d'encouragement de la Fondation Ernst von Siemens à Munich ; Prix Hindemith du Festival de musique du Schleswig-Holstein
1999 Création de la première grande pièce de théâtre musical « Bählamms Fest » (Livret : Elfriede Jelinek d'après Leonora Carrington) lors des Festwochen de Vienne en 1999 ; Le prix Ernst Krenek lui a été décerné pour cette œuvre
Ecrite pour Pierre Boulez et le London Symphony Orchestra, son œuvre « Clinamen Nodus » a été jouée en tournée mondiale après sa création à Londres en mars 2000 ; elle est disponible sur CD
2000 Compositrice en résidence au Koninklijk Filharmonisch Orkest van Vlaanderen, à Anvers
2002 Compositrice en résidence au Festival de Lucerne (avec Pierre Boulez)
Création de l'œuvre de théâtre musical « Lost Highway » d'après le film de même titre de David Lynch (livret d'Elfriede Jelinek et Olga Neuwirth), Automne Styrien 2003 (Steyrischer Herbst) en coproduction avec « Graz, Capitale culturelle 2003 » et le Théâtre de Bâle. Le CD Hybrid 2007 est paru chez KAIROS
2002–05 diverses musiques de théâtre et de film (dernièrement « Erik(A) »)
divers concerts portraits en Autriche et à l'étranger
2004 « …ce qui arrive… », idée et musique d'Olga Neuwirth, une commande de l'ECHO
Texte et voix : Paul Auster ; Ensemble Modern – avec Georgette Dee ; Video : Dominique Gonzales-Foerster
2005 « ...le temps désenchanté...ou le dialogue aux enfers » installation sonore sur la place Igor Strawinsky, commande du Centre Pompidou et de l'IRCAM, à Paris, accompagné d'un court métrage, essai d'Olga Neuwirth basé sur un fragment du film de René Clair « Paris qui dort »
Vidéoclip sur les trois chansons « no more secrets, no more lies » avec Georgette Dee et l'Ensemble Modern
Exposition-portrait « la puissance de la parole » avec Valie Export et Elfriede Jelinek au NYC – Austrian Cultural Forum
2006 Olga Neuwirth est élue membre de l'Académie des Arts de Berlin
Création de son concerto pour trompette « …miramondo multiplo… » pour le soliste Håkan Hardenberger et le Wiener Philharmoniker, sous la direction de Pierre Boulez, au Festival de Salzburg 2006
2007 Février: Création aux Etats-Unis de « Lost Highway » à NYC et Oberlin; Participation à l'exposition Documenta 12 de Kassel avec l'installation sonore (et un film) « …miramondo multiplo… »
2008 Prix des Artistes de la ville d'Heidelberg; première anglaise de « Lost Highway » par l'English National Opera au Young Vic (Mise en scène : Diane Paulus).
2009 Musique pour le film "Das Vaterspiel" de Michael Glawogger (montré à la Berlinale); « South Bank Award » pour « Lost Highway » (de la production par l'English National Opera au Young Vic). Création de son concerto pour alto et orchestre, « Remnants of Songs … an Amphigory », au Musikprotokoll Graz.
2010 Prix de Musique « Louis Spohr » de la cité de Braunschweig; Grand Prix National de l'Autriche.
2012 WP de « American Lulu », une version de l'opéra d'Alban Berg, à Berlin.
2014 Musique de film pour le long métrage « Ich seh ich seh » de Veronika Franz et Severin Fiala.
2015 Sa pièce électronique/espace/ensemble de 80 minutes « Le Encantadas », basée sur l'acoustique d'une église vénitienne, est créée à Donaueschingen et au Festival d'Automne à Paris ; première de « Masaot/Clocks Without Hands » pour orchestre à Cologne, première américaine en février 2016 au Carnegie Hall.
2016 Reçoit la prestigieuse commande Roche du Festival de Lucerne pour son concerto pour percussion « Trurliade-Zone Zero » et est compositeur en résidence au festival pour la deuxième fois.
2017 Son installation sonore 3D en collaboration avec l'IRCAM est inaugurée au Centre Pompidou à Paris pour son 40e anniversaire ; collaboration avec l'architecte Peter Zumthor et Asymptote Architects; Deutscher Musikautorenpreis.
2018 Première de la version révisée de son opéra « THE OUTCAST – Homage to Herman Melville » à Vienne.
2019 Création mondiale de son opéra « Orlando » à la Wiener Staatsoper; Prix de la Fondation Christoph et Stephan Kaske; Österreichisches Ehrenzeichen für Wissenschaft und Kunst.
2020 Robert Schumann-Preis für Dichtung und Musik (Mainz).
2021 Wolf Prize for Music.
2022 Grawemeyer Award for Music Composition; Ernst von Siemens Musikpreis.
Vit à Vienne.
Oeuvres composées jusqu'à 2000 et entre 2009 et 2021 sont éditées chez Ricordi.
This biography can be reproduced free of charge in concert programmes with the following credit: Reprinted by kind permission of Boosey & Hawkes