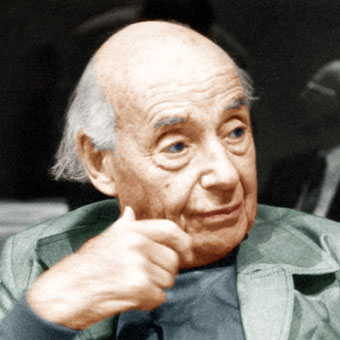 Berthold Goldschmidt
1903 - 1996
An introduction to Goldschmidt's music by Michael Struck
The rediscovery of the composer Berthold Goldschmidt (1903-1996) is undoubtedly one of the most striking events in music of the late twentieth century. Prior to 1933 the young composer was regarded as "one of the great hopes of German music" (H. F. Redlich), but for the following decades Goldschmidt and his work were virtually forgotten in Germany. At best, he was known for aiding and advising Deryck Cooke to complete a performing version of Mahler's Tenth Symphony and for conducting its first performance in London in 1964. And in England, where he had fled from Nazi Germany in 1935, his music also received only scant recognition.
Berthold Goldschmidt was born in Hamburg. He studied composition in Berlin in Franz Schreker's master class, assisted Erich Kleiber at the first performance of Alban Berg's Wozzeck, was musical adviser to Carl Ebert, and conducted in Darmstadt and Berlin. Goldschmidt's early compositions exhibit a distinctive profile among the musical trends in Germany and Europe around 1930. If one were to make a comparison, his work shows more affinity with Hindemith, Weill, Prokofiev, and Shostakovich and less with the Second Viennese School. One side of the composer is represented by a dancing vitality sometimes taking on a more aggressive edge, and the other by a pronounced expressive style often underpinned by rigorous contrapuntal or formal techniques such as passacaglia, chaconne and ostinato. These twin poles define a free tonal idiom that is versatile and undogmatic, witty and ironic by turns, yet with depth and substance.
His String Quartet No.1 and the sparkling virtuoso Overture: "The Comedy of Errors" (Goldschmidt's most frequently performed work before 1933) take tradition to task in a most intelligent and playful manner. The Piano Sonata and Partita for Orchestra, which was lost for many years and only rediscovered in 1994, with their radical linearity that touches the limits of tonality, their kinetics and violent eruptions of sound, belong to the most progressive music of the 1920s. Der gewaltige Hahnrei (The Mighty Cuckold), one of the most important German language operas of its time, fuses divergent stylistic elements to form a compelling dramatic whole and is ample proof that the young Goldschmidt was also a genuine opera composer. However, the promising perspectives that the acclaimed premiere in Mannheim (1932) opened were closed abruptly with the advent of Nazi Germany.
In his London refuge, after a difficult beginning, Goldschmidt gradually made a name for himself with the BBC and as a conductor. In 1947 he became a British citizen. In addition to his second String Quartet which can be considered as the quintessence of his music, during the years 1936 to 1958 he composed songs for piano and particularly orchestral and concert pieces: Ciaccona Sinfonica combines a free tonal idiom and quasi-serial composition techniques impressively; similarly valuable additions to the repertoire are the three concertos and the atmospheric orchestral song cycle Mediterranean Songs. Goldschmidt's second English opera, Beatrice Cenci, which in contrast to Der gewaltige Hahnrei is oriented on the principles of bel canto, won a prize at the opera competition of the Festival of Britain in 1951; however, it was not until 1988 that it was given a concert performance in London and its first full performance was staged in Magdeburg in 1994.
In the early 1980s Berthold Goldschmidt was rediscovered by Austria, the USA, and then by Germany and other European countries. This reawakened interest in his music culminated in the years 1993-1995 in numerous performances of his works, including the two operas. After a break of almost twenty-five years, he began to compose again in 1982 and produced an astounding body of late work. In addition to works for orchestra, including two short and succinct vocal cycles (Les petits adieux and Deux nocturnes), this comprises above all chamber music: in pieces such as the Clarinet Quartet, Retrospectrum for string trio, or the concentrated and multi-faceted, highly expressive String Quartet No.4, Goldschmidt draws accomplished and convincing conclusions from his historic and aesthetic experiences. Uncompromisingly and forcefully, problems of historic and aesthetic distortions, twists, and breaks are reflected, expressed, and given musical form. The different phases of Goldschmidt's oeuvre truly contain fascinating and genuine contributions to twentieth century music.
Michael Struck, 2001
(Musicologist, journalist, pianist, member of the editorial board for the Brahms Complete Edition at the University of Kiel, and a leading authority on the music of Berthold Goldschmidt)