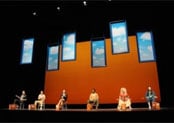 Photo: courtesy of David T. Little
Little, David T.
Vinkensport, or The Finch Opera
(full version)
(2009-2010)
one act opera for 6 singers and orchestra
Duration: 40 minutes
Music Text
Libretto von Royce Vavrek (engl.)
Scoring
3S,T,2Bar
1.picc.2.1.bcl.2-2.2.2.1-timp.perc(3):I=chimes/BD/crot/vib/glsp/susp.cym/marble in Martini glass; II=xyl/glsp/SD/crot/marimba; III=vib/kick dr/floor tom/marimba/ride cym/hi-hat/rack tom/SD/Splash cym/Crash cym-pft-harp-strings
This work is also available for reduced orchestra. Please follow this link for more information.
Abbreviations (PDF)
Publisher
Boosey & Hawkes (Hendon Music)
Territory
This work is available from Boosey & Hawkes der ganzen Welt.
Roles
| | |
| --- | --- |
| Farinellis Trainerin | Sopran |
| Sir Elton Johns Trainerin | Sopran |
| Trainerin des Heiligen Franziskus | Sopran |
| Hans Sachs' Trainer | Tenor |
| Sohn des Trainers von Prinz Gabriel III. von Belgien | Bariton |
| Atticus Finchs Trainer | Bass-Bariton |
Synopsis
 
Drastische bis melancholische Komödie, die Besessenheit, Sehnsucht und Siegeswillen vor dem Hintergrund eines sonderbaren flämischen Volkssports erkundet.
Ein bunt zusammengewürfelter Haufen von Wettkämpfern versammelt sich zum jährlichen "Finkensitzen", einem traditionellen belgischen Volkssport, bei dem Buchfinken (und ihre Besitzer) gegeneinander antreten. Es geht darum, welcher Vogel am besten singt, und der Ablauf ist folgender: Auf ein Flaggenzeichen hin setzt jeder menschliche Wettbewerber sich vor einen Käfig, in dem sich einer seiner tierischen 'Athleten' befindet. Jedesmal, wenn ein Fink einen vollständigen Ruf ertönen lässt (ein "Suskewiet", wie es flämisch unter Fachleuten heißt), wird ein Kreidestrich auf einen Holzstab gemacht. Der Vogel mit den meisten Zählern gewinnt – und bringt seinem Trainer Ehre ein. Auch wenn es sich um einen scheinbar simplen und freundschaftlichen Wettbewerb handelt: Wenn man Zeuge der inneren Monologe der Teilnehmer und von Rückblicken in die Zeit der Vorbereitung wird, offenbaren sich Täuschung, tiefsitzende Rivalität, leidvolle Einsamkeit und erblühende Liebesleidenschaft.
Composer Notes
Finkensport ist eine bittersüße Komödie in einem Akt. Sie erkundet Besessenheit, Sehnsucht und Siegeswillen vor dem Hintergrund eines sonderbaren flämischen Volkssports, dem "Finkensitzen".

Abgerichtete Finken gehen ins Rennen um die meisten "Suskewiets" innerhalb einer Stunde. Während sie miteinander wetteifern, treten die Freuden, Sorgen, Enttäuschungen und schockierenden Wahrheiten ihrer Coaches zutage. Wir erfahren nie deren bürgerliche Namen, sie werden durch ihre Vögel bestimmt und dementsprechend genannt: Atticus Finchs Trainer usw.

Einige der Trainer bzw. Konkurrenten sind vornehm, andere nicht. Einige spielen fair, andere nicht. Manche wären sogar am liebsten gar nicht mit von der Partie. Aber fast alle sind sie verloren in dieser Welt, finden Trost in der Gesellschaft ihrer Vögel und in der bloßen Möglichkeit von Gemeinschaft.
– David T. Little