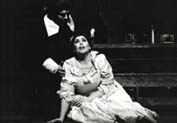 Photo: Walt Frerck
Floyd, Carlisle
Opera in three acts, eight scenes
Duration: 135 minutes
Music Text
Libretto by the composer, based on the novel `A Mirror of Witches' by Esther Forbes (E)
Scoring
Major roles: 2S,M,C,2T,Bar,BBar,B; minor roles: S,T,2Bar,
3 speakers; chorus
2(II=picc).2(II=corA).2(II=bcl).2-4.2.2.1-timp.perc(4)xyl/vib/SD/TD/BD/tamb/susp.cym/crash cym/ant.cym/ant.chimes/stone wind chimes/chimes/tpl.cl/wdbl/chinese tpl.bl/gong/bells/bell tree/whip/vibraslap-harp-cel-
pft-strings
Abbreviations (PDF)
World Premiere
2/27/1976
Houston, Texas
David Pountney, director
Conductor: Christopher Keene
Company: Houston Grand Opera
Roles
| | |
| --- | --- |
| Silas, the tavern keeper | baritone |
| Deacon Thumb, a prosperous farmer | tenor |
| Titus Thumb, his son | baritone |
| Jared Bilby, a former sea captain | bass |
| Mr. Zelley, a clergyman | bass-baritone |
| Goody Goochy, the village midwife-undertaker | contralto |
| Town Crier | tenor |
| Hannah Bilby, Jared Bilby's wife | mezzo-soprano |
| Doll Bilby, the Bilby's foster daughter | soprano |
| Mrs. Thumb, wife of Deacon Thumb | soprano |
| Sorrow, twin daughter of Deacon and Mrs. Thumb | soprano |
| Labour, twin daughter of Deacon and Mrs. Thumb | soprano |
| First Suitor, suitor of the widowed Hannah Bilby | tenor |
| Second Suitor, suitor of the widowed Hannah Bilby | baritone |
| Shad | tenor |
| Mr. Kleaver, the village doctor | baritone |
| Captain Buzzey, the local constable | baritone |
| Mr. Increase Mather | bass |
| A Young Boy | non-singing |
| Goody Greene | non-singing |
| A Servant Boy | non-singing |
| Judge Bride | non-singing |
| Judge Lollimour | non-singing |
| People of Cowan Corners and Salem, Deputies, Judges' retinue | non-singing |
Time and Place
1671-73, Cowan Corners, Massachusetts
Synopsis
Bilby's Doll, based on the novel "A Mirror for Witches" by Esther Forbes, is the story of Doll Bilby, a French orphan girl whose spirituality and imagination collide with the hostility and practical ideals of the Puritan colony where she is raised by foster parents.


Doll was brought to Massachusetts from France by Jared Bilby, her foster father.  She declines a marriage proposal from Titus Thumb, a young ministerial student, saying that her natural parents were burned as witches in France and she worries that she might also become a witch.  Instead, she meets and marries a man who pretends he is an authentic demon, but who is later revealed to be the estranged and opportunistic son of the minister Zelley, Doll's friend and supporter.


Although she is at first devastated by the revelation of her lover as a mortal, Doll's belief that her husband is a demon is restored as she dies giving birth in a jail cell.


 
Subjects
Literary, Magic/Mystery, Relationships, Religion, Society