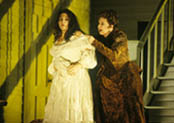 Photo: Carol Rosegg for The New York City Opera
Performed by the New York City Opera, March, 1999. Lizzie Borden: Phyllis Pancella.
Beeson, Jack
Lizzie Borden (1965)
Duration: 120 minutes
A family portrait in three acts
Libretto by Kenward Elmslie after a scenario by Richard Plant (E,G)
Scoring
chorus: dramcol S,lyr S,M,T,lyr Bar,BBar; small children's chorus
orchestra: 2(II=picc).2(II=corA).2(II=bcl).2-2.2.2.euph.1-timp.perc(2):xyl/SD/small and large susp.cym/tam-t/field dr/tamb/glsp/BD/TD/tgl-harm-harp-strings
Abbreviations (PDF)
Uraufführung
3/25/1965
City Center, New York, NY
Nikos Psacharopoulos, Regisseur
Conductor: Anton Coppola
Company: New York City Opera
Roles
| | |
| --- | --- |
| ANDREW BORDEN, der Vater | Baßbariton |
| ABIGAIL BORDEN, die Stiefmutter | Sopran (Spinto mit Koloratur) |
| ELIZABETH ANDREW BORDEN, die ältere Tochter | Mezzosopran |
| MARGRET BORDEN, die jüngere Tochter | Lyrischer Sopran |
| HARRINGTON, ein Geistlicher | Tenor |
| CAPTAIN JASON MACFARLANE | Lyrische Bariton |
| Kleiner Chor aus Kindern und Jugendlichen | |
Time and Place
Fall River/Massachusetts, 1890
Synopsis
Die Oper erzählt ein berüchtigtes Verbrechen nach: In Fall River in Massachusetts wurden im Jahr 1890 Andrew Borden und seine zweiten Frau Abbie tot aufgefunden – erschlagen mit einer Axt; die Tochter wurde der Tat verdächtigt.

Lizzies Vater, der reichste Mann der Stadt, bricht in eine Chorprobe hinein und stellt Lizzie bloß. Ein Schiffskapitän, Jason MacFarlane, und der Dorfgeistliche besuchen die Bordens, und Jason bittet Andrew um Erlaubnis, seine jüngere Tochter Margret heiraten zu dürfen. Andrew lehnt die Bitte ab und bietet ihm stattdessen Lizzie an. Jason und Margret planen die Gegend zu verlassen. Lizzie zieht das Brautkleid ihrer verstorbenen Mutter an und stellt sich vor, wie Jason zu ihr zurückkehrt. Abbie erwischt Lizzie in dem Brautkleid und droht Andrew alles zu sagen. Sie befiehlt Lizzie, den Abendbrottisch zu decken, und macht oben ein Nickerchen. Lizzie, die immer noch das Brautkleid trägt, nimmt sich eine Waffe und betritt Abbies Schlafzimmer. Als Andrew zurückkehrt, folgt Lizzie auch ihm nach oben in sein Zimmer.

Sie wird von beiden Morden freigesprochen, von den Leuten jedoch fortan gemieden. Kinder laufen um ihr Haus herum und verspotten sie. Sie lebt für den Rest ihres Lebens im Haus ihres Vaters.
Moods
dramatisch, tragisch
Subjects
Beziehungen, Gesellschaft, zeitgenössisch
Recommended Recording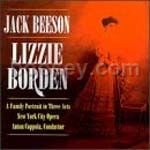 Ann Elgard, lyric soprano; Brenda Lewis, mezzo soprano; Ellen Faull, soprano; Herbert Beattie, bass baritone; Richard Fredricks, lyric baritone; Richard Krause, tenor

New York City Opera; Anton Coppola, conductor

New World Records #NWCR694