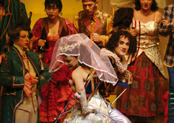 Photo: Uwe Lewandowski
Offenbach - Keck
La Périchole (OEK critical edition)
(1868/70/74)
Opéra-bouffe in two acts (1868 version) or three acts and four scenes (1874 version)
Duration: 150 minutes
Music Text
Libretto by Henri Meilhac and Ludovic Halévy; original German version by Ludwig Kalisch; new German version by Stefan Troßbach; new English version by Richard Duployen (F,G,E)
Scoring
Major roles: M(colS),2T,T(Bar),B; minor roles: 4S,3M,2T,Bar,2B; 2 actors (1874 version); chorus;
2(II=picc).1.2.1-2.2.1.0-timp.perc-strings
Abbreviations (PDF)
Publisher
Boosey & Hawkes / Bote & Bock
Territory
This work is available from Boosey & Hawkes for the world.
Availability
World Premiere
10/6/1868
Théâtre des Variétés, Paris
Hortense Schneider, soprano
Conductor: Jacques Offenbach
World premiere of version
10/15/2000
Basel
Matthias Schönfeldt, director
Conductor: Paul McGrath
Company: Theater Basel
Roles
| | |
| --- | --- |
| PIQUILLO, street singer | Tenor |
| DON ANDRÈS DE RIBEIRA, vice king of Peru | Baritone (or Bass Baritone) |
| THE COUNT OF PANATELLAS, his first chamberlain | Tenor |
| DON PEDRO DE HINOYOSA, governor of Lima | Baritone |
| MARQUIS DE TARAPOTE, chamberlain of the vice king | Tenor (Vienna: Baritone) |
| An old prisoner | Speaking role (1874) |
| First Notary | Buffo Tenor |
| Second Notary | Buffo Tenor (or Baritone) |
| PÉRICHOLE, street singer | Mezzo Soprano (Vienna: Coloratura Soprano) |
| GUADALENE, BERGINELLA and MASTRILLA, 3 cousins | 2 Sopranos, Mezzo Soprano |
| MANUELITA, FRASQUINELLA, BRAMBILLA and NINETTA, court ladies | 2 Sopranos, 2 Mezzo Sopranos |
| 2 drinkers | Basses |
| A bouncer | Speaking role (1874) |
| Peruvians, indians, court people, pages, servants, guards, clowns | |
Synopsis
The couple Périchole and Piquillo eke out their living by singing on the street. Their love is great, but the money is not enough for a wedding. Périchole is put to the test when the viceroy of the country, Don Andrès, finds her half starved and exhausted, while he is mingling with the crowd, and promises her more than just a warm meal. On his return, Piquillo, who in the meantime had tried his luck on his own with his guitar, finds only a farewell letter from Périchole. Don Andrès wants to make Périchole his mistress, but the Peruvian law, which he himself set up, only allows him to do so if Périchole is married. So a husband must be found for her, and of course the viceroy's emissaries cannot find a better one than the completely frustrated Piquillo, who – drunk as he is – agrees to the profitable piece of horse-trading, not knowing who he is going to marry. His frustration becomes even worse when on the next morning, sober again, he realises the irony of his fate. When Piquillo, following the courtly etiquette, has to officially present his new wife Périchole to the viceroy – in other words deliver her to him – he gets so upset that he ends up in the 'prison for rebellious husbands'. Périchole manages with great intelligence and wit to teach a lesson to both the absolutist ruler Don Andrès and the absolutist lover Piquillo, a lesson applicable to all men.
Moods
Comic, Poetic, Romantic
Subjects
Recommended Recording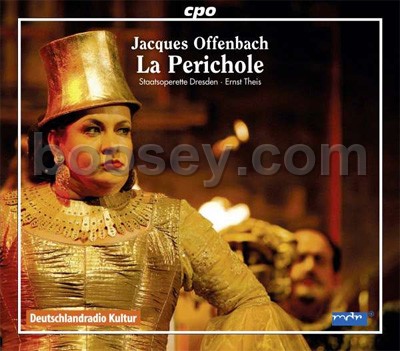 Sabine Brohm / Ralf Simon / Gerd Wiemer / Bernd Könnes / Marcus Günzel / Chor und Orchester der Staatsoperette Dresden / Ernst Theis
cpo 777 493-2
Links