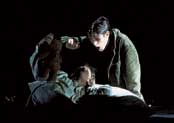 Photo: Catherine Ashmore
Britten, Benjamin
The Turn of the Screw
(1954)
Opera in a prologue and two acts
Duration: 101 minutes
Music Text
Libretto by Myfanwy Piper, after a story by Henry James (E,F,Fn,G,I)
Scoring
Tr,3S,S(orM),2T
1(=picc,afl).1(=corA).1(=bcl).1-1.0.0.0-perc(1):4timp/BD/SD/TD/tom-t/
gong/cyms/tgl/wdbl/glsp/t.bells-harp-pft(=cel)-strings(1.1.1.1.1)
Abbreviations (PDF)
World Premiere
9/14/1954
Teatro La Fenice, Venice
Basil Coleman, director
Conductor: Benjamin Britten
Company: English Opera Group
Roles
| | |
| --- | --- |
| THE PROLOGUE | Tenor |
| THE GOVERNESS | Soprano |
| MILES | Treble |
| FLORA | Soprano |
| MRS. GROSE, the housekeeper | Soprano |
| QUINT, a former man-servant | Tenor |
| MISS JESSEL, a former governess | Soprano |
Time and Place
Bly, an English country house, middle of the 19th Century
Synopsis
In the Prologue, the tenor describes a written account of the action, in which a young woman tells how she accepted a position in a house with two children on the understanding that she would never contact their guardian. The main action sees the Governess travelling to Bly with trepidation but she is welcomed by the housekeeper, Mrs Grose, and takes an instant liking to her charges, Miles and Flora. A letter, however, arrives from Miles's school, dismissing him as 'an injury to his friends'. She decides not to discuss it with him. Seeing a strange man on the tower in the grounds, the Governess describes him to Mrs Grose, who identifies him as Quint, the guardian's valet, who made free with the former governess, Miss Jessel. She left and died, and Quint subsequently died himself. The Governess fears for Miles. At the lake, the Governess becomes aware of the presence of Miss Jessel, and aware also that Flora has pretended not to see her. Quint and Miss Jessel then call to Miles and Flora at night, and though the Governess intervenes she does not question the children.
The Governess next sees Miss Jessel in the schoolroom. She decides to write to the guardian, but Miles — egged on by Quint — steals the letter, whilst providing cover for Flora to go to Miss Jessel. Mrs Grose is unable to see the ghost, but her night spent with Flora convinces her that something is badly wrong and she takes the girl away. When the Governess confronts Miles with her suspicions, Quint approaches and speaks directly to the boy, who suddenly dies in the Governess's arms.
Repertoire Note
Regarded by many as the finest of all his stage-works, The Turn of the Screw, Britten's final chamber opera, was written in the incredibly short period of just four months in 1954. The work is based on the novel of the same name by Henry James which Britten had known for many years: a tale of good versus evil, natural versus the supernatural, possession and exorcism, set within the domestic proprieties of the Essex country house of Bly - ingredients which would have had an obvious appeal for the composer. Above all, Britten's favourite theme of the corruption of innocence must have attracted him more than any other.
The story also lends itself to Britten's gifts for apt and distinctive musical characterisation, the relatively 'pure' and uncomplicated music for the opera's mortals contrasting strongly with the alluring, other-worldly music associated with the ghosts.
The work is one of the most tautly constructed and tightly-knit of all Britten's operas, the musical material almost wholly derived from the twelve-note 'Screw' theme heard near the work's opening. However, this very concentration helps give this work its overwhelming feeling of intense claustrophobia and its astonishing dramatic power can have a shattering impact in the theatre.
Reproduced by kind permission of the Britten-Pears Library
Subjects
Contemporary, Literary, Magic/Mystery, Relationships
Recommended Recording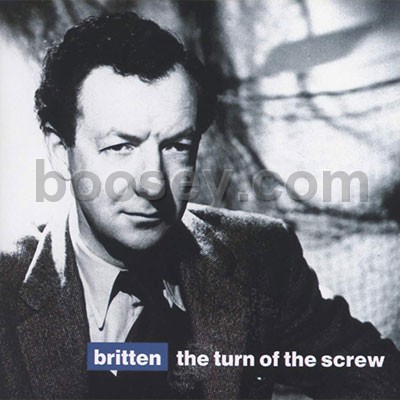 Peter Pears/Jennifer Vyvyan/Arda Mandikian/David Hemmings/Oliver Dyer/Joan Cross/English Opera Group Orchestra/Benjamin Britten
Decca 425 6722