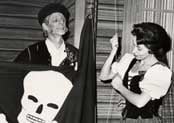 Photo:
Floyd, Carlisle
The Sojourner and Mollie Sinclair
(1963)
Opera in one act
Duration: 75 minutes
Music Text
Libretto by the composer (E)
Scoring
S,M,T,Bar,BBar; chorus
1(=picc).1(=corA).1(=bcl).1-1.1.1.0-timp.perc(1):SD/cyms/glsp/BD/
xyl/TD/tgl/gong-harp-strings(or 1.1.1.1.1)
Abbreviations (PDF)
Publisher
Boosey & Hawkes
Territory
This work is available from Boosey & Hawkes for the world.
World Premiere
12/2/1963
Raleigh, North Carolina
Edgar R. Loessin, director
Conductor: Julius Rudel
Company: East Carolina Opera Workshop
Roles
| | |
| --- | --- |
| JENNY MACDOUGALD | Soprano |
| LACHLAN SINCLAIR | Tenor |
| DOUGALD MACDOUGALD | Bass Baritone |
| SPOKESMAN | Baritone |
| MOLLIE SINCLAIR | Mezzo-Soprano |
| Kinsmen | Mixed Chorus |
| Brigade of Men | Silent |
| Slaves | Male Chorus |
Time and Place
Mid 18th century, a plantation on the Cape Fear River in colonial North Carolina
Synopsis
Set in the mid-18th century, the opera tells of the divided patriotic loyalty of a Scottish family settling in what would later become North Carolina. A Scottish laird, Dougald MacDougald, retains his privilege and rank in the colonies until a strong-willed Scottish woman, Mollie Sinclair, challenges his views by pointing out that he came to the New World to find fortune and freedom. Outraged by the Stamp Act, Mollie leads a protest march against British oppression; MacDougald takes the opposite position, continuing to raise his Union Jack and pledge allegiance to "good King George III". Finally, Mollie wins Dougald over to the Colonial cause while her son, Lochlan, is winning the hand of MacDougald's daughter, Jenny.
Subjects
Recommended Recording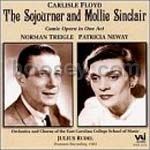 Patricia Neway, Norman Treigle, Anne Hearne Moss, William Newberry, Jerold Teachey, East Carolina College School of Music Chorus, East Carolina College School of Music Orchestra, Julius Rudel
Video Artists International VAIA1172