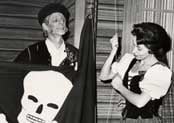 Photo:
Floyd, Carlisle
The Sojourner and Mollie Sinclair
(1963)
Opera in one act
Duration: 75 minutes
Music Text
Libretto by the composer (E)
Scoring
S,M,T,Bar,BBar; chorus
1(=picc).1(=corA).1(=bcl).1-1.1.1.0-timp.perc(1):SD/cyms/glsp/BD/
xyl/TD/tgl/gong-harp-strings(or 1.1.1.1.1)
Abbreviations (PDF)
Publisher
Boosey & Hawkes
Territory
This work is available from Boosey & Hawkes in der ganzen Welt.
Uraufführung
12/2/1963
Raleigh, North Carolina
Edgar R. Loessin, Regisseur
Conductor: Julius Rudel
Company: East Carolina Opera Workshop
Roles
| | |
| --- | --- |
| JENNY MACDOUGALD | Sopran |
| LACHLAN SINCLAIR | Tenor |
| DOUGALD MACDOUGALD | Baßbariton |
| Sprecher | Bariton |
| MOLLIE SINCLAIR | Mezzosopran |
| Verwandte | Gemischter Chor |
| Männerbrigade | stumm |
| Sklaven | Männerchor |
Time and Place
Eine Plantage am Cape Fear im kolonialen North Carolina, Mitte des 18. Jahrhunderts
Synopsis
Die Oper spielt Mitte des 18. Jahrhunderts und erzählt von den geteilten patriotischen Gefühlen einer schottischen Familie, die sich in der Gegend niederlässt, die später zu North Carolina wird. Der schottische Gutsherr Dougald MacDougald besteht auch in den Kolonien auf seinem Stand und seinen Privilegien, bis eine willensstarke Schottin, Mollie Sinclair, seine Ansichten herausfordert und ihn darauf hinweist, dass er in die Neue Welt gekommen ist, um Glück und Freiheit zu finden.

Mollie ist empört über die Urkundensteuer und führt einen Protestmarsch gegen die britische Unterdrückung an. MacDougald nimmt die Gegenposition ein, hisst weiter seinen Union Jack und schwört dem "guten König Georg III." die Treue. Schließlich aber gewinnt Mollie MacDougald doch für die Sache der Kolonien, während ihr Sohn Lochlan die Hand von MacDougalds Tochter Jenny erhält.
Subjects
Recommended Recording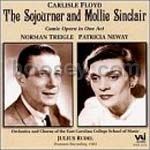 Patricia Neway, Norman Treigle, Anne Hearne Moss, William Newberry, Jerold Teachey, East Carolina College School of Music Chorus, East Carolina College School of Music Orchestra, Julius Rudel
Video Artists International VAIA1172