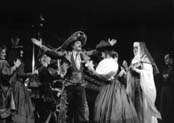 Photo: Petra Hellberg
Offenbach - Keck
La Vie parisienne (OEK critical edition)
(Pariser Leben)
(1866/67/73)
Opéra-bouffe in five or four acts
Duration: 180 minutes
Music Text
Libretto by Henri Meilhac and Ludovic Halévy; original German version by Karl Treumann; new German version by Stefan Troßbach; new English version by Richard Duployen (F,G,E)
Scoring
6S,2M,7T,B; speaking roles; chorus;
2(II=picc).1.2.1-2.2.1.0-timp.perc-strings;
Viennese orchestration: 2.2.2.2-4.2.3.0-timp.perc-strings
Abbreviations (PDF)
Publisher
Boosey & Hawkes / Bote & Bock
Territory
This work is available from Boosey & Hawkes for the world.
Availability
World Premiere
10/31/1866
Palais-Royal, Paris
Company: unknown
World premiere of version
3/31/2001
Vasan Theatre, Stockholm
Edmund Gleede / Hakan Bjerking, director
Conductor: Peter Schmelzer
Company: Royal Swedish Opera
Roles
| | |
| --- | --- |
| BARON GONDREMARCK | Baritone |
| BARONESS CHRISTINE | Soprano |
| RAOUL OF GARDEFEU | Tenor |
| BOBINET CHICARD | Tenor or high Baritone |
| MÉTELLA | Mezzo-Soprano |
| POMPA DI MATADORES | Tenor |
| GABRIELLE | Light Soprano |
| FRICK | Tenor |
| PROSPER | Tenor |
| URBAIN | Baritone |
| JOSEPH | speaking role |
| ALPHONSE | speaking role |
| GONTRAN | Tenor or High Baritone |
| PAULINE | Light Soprano |
| LÉONIE | Soprano |
| LOUISE | Soprano |
| CLARA | Soprano |
| Additional roles in 1866 and 1873 versions | |
| Travellers, porters, craftsmen, guests, waiters | |
Time and Place
Paris in the year 1867
Synopsis
The two rakes Gardefeu and Bobinet, who used to be friends, are no longer on speaking terms since they know that they are in love with the same woman, the coquettish Metella. When both accidentally want to meet her at the train station at the same time, she has her arm around another man. The two cuckolds are reconciled. In the future, they want to avoid the expensive demi-monde and look for affairs in the upper circles of society. At that moment, a wonderful opportunity alights from the train, accompanied by an elderly gentleman. She is the Baroness Gondremarck and her husband from Sweden, who are wanting to enjoy life in Paris for a couple of days, and are looking forward to the many attractions the city offers during the great world exhibition. As these naive provincials see that fair of grand illusions for the first time, they are welcome victims for the plan Gardefeu quickly designs. He bribes his old servant Joseph, who meets the lady and gentleman from the station as a guide from the Grand Hotel. He then takes over Joseph's role and directs the unsuspecting couple to his elegant bachelor apartment which he cheekily declares to be an annexe of the luxury hotel. Gardefeu even manages to make the two sleep in separate rooms and, with Bobinet's help, to produce invitations for noble circles of society for the adventurous baron. Thus he is free to seduce the baroness. But, sophisticated as Gardefeu's intrigue may be, all the gentlemen hungry for life and love eventually get ensnared within it and almost break their necks.
Subjects
Recommended Recording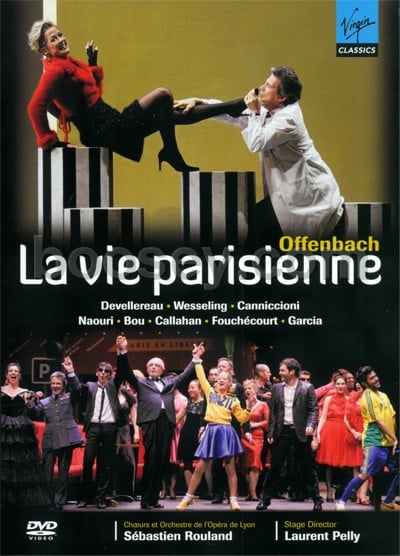 Fouchécourt / Bou / Garcia / Naouri / Callahan / Wesseling
Sebastien Rouland, cond. / directed by Laurent Pelly (Opéra de Lyon, 2007)
EMI/Virgin DVD 6525112
Links