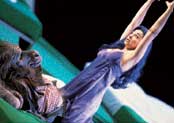 Photo: Bill Rafferty
Britten, Benjamin
A Midsummer Night's Dream
(1960)
Opera in three acts
Duration: 144 minutes
Music Text
Libretto adapted from Shakespeare by Benjamin Britten and Peter Pears (E,Cz,F,G,H,I,P,Sc,Sw)
Scoring
colS,S,M,A,CT/A,3T,2Bar,BBar,3B,acrobat speaking role;
children's roles: 4Tr,chorus
2(=picc).1(=corA).2.1-2.0.Dtpt.1.0-perc(2):tgl/cyms/tamb/gong/2wdbl/
vib/glsp/xyl/tamburo/SD/TD/BD/timp/2bells-2harps-hpd(=cel)-
strings (min 4.2.2.2.2)-Stage band:sopranino recorders/cyms/2wdbl
Abbreviations (PDF)
Publisher
Boosey & Hawkes
Territory
This work is available from Boosey & Hawkes for the world.
Availability
World Premiere
6/11/1960
Jubilee Hall, Aldeburgh
John Cranko, director
Conductor: Benjamin Britten
Company: Snape Maltings
Roles
| | |
| --- | --- |
| OBERON, King of the Fairies | Countertenor |
| TYTANIA, Queen of the Fairies | Coloratura Soprano |
| PUCK | Acrobat/speaking role |
| THESEUS, Duke of Athens | Bass |
| HIPPOLYTA, Queen of the Amazons, betrothed to Theseus | Contralto |
| LYSANDER, in love with Hermia | Tenor |
| DEMETRIUS, in love with Hermia | Baritone |
| HERMIA, in love with Lysander | Mezzo Soprano |
| HELENA, in love with Demetrius | Soprano |
| BOTTOM, a weaver | Bass Baritone |
| QUINCE, a carpenter | Bass |
| SNUG, a joiner | Tenor |
| SNOUT, a tinker | Tenor |
| STARVELING, a tailor | Baritone |
| COBWEB, PEASEBLOSSOM, MUSTARDSEED, MOTH | Trebles |
| CHORUS OF FAIRIES | Trebles or Sopranos |
Time and Place
A wood near Athens
Synopsis
As twilight falls, fairies attendant upon their queen Tytania enter, followed by Puck, spirit attendant on the fairy-king, Oberon. Soon the royal pair arrives, separately, having fallen out. They argue, then Tytania and her fairies leave. Oberon sends Puck to find for him a certain herb that causes those upon whose sleeping eyelids the juice is dropped to fall in love with the next live creature that he or she sees. Next enter lovers Lysander and Hermia, forbidden by Athenian law to marry (she must wed Demetrius) and so fleeing the city together. They leave as Oberon enters to observe a second Athenian couple, Demetrius (in love with Hermia) pursued by Helena (in love with Demetrius). As they move off Puck returns with the herb, and Oberon instructs him to seek out an Athenian (meaning Demetrius) and anoint his eyes so as to make him fall in love with Helena. Next, a group of Athenian workmen enters, intent on casting a play they hope to perform before Duke Theseus. Most prominent among them is Bottom, cast as Pyramus in Pyramus and Thisbe. They agree to return later to rehearse. Now the mix-ups begin: Puck anoints Lysander's eyes, causing him to transfer his allegiance to Helena, while Oberon anoints Tytania's, causing her to fall in love with Bottom, whom Puck has mischievously given an ass's head. The four Athenians are hurled into violent discord, till Puck sends them to sleep and they wake up cured. Bottom too is eventually restored, Oberon and Tytania make their peace, and following the successful performance of Pyramus and Thisbe before his guests (whom we met earlier in the wood), they bless Theseus and his wife Hippolyta, and their house.
Repertoire Note
In August 1959, Britten decided to compose a full-evening opera for the reopening of the refurbished Jubilee Hall in Aldeburgh in June 1960. As this left no time for a libretto to be prepared anew, he chose to adapt with Peter Pears Shakespeare's A Midsummer Night's Dream, though as he admitted at the time, he had always admired the original play and was excited by the various levels of action between the different groups of characters. As with The Turn of the Screw, these groups are characterised by strongly differentiated colours: the bright, percussive sounds of harps, keyboards and percussion for the fairy world, warm strings and wind for the the pairs of lovers, and lower woodwind and brass for the mechanicals. The opera is completely faithful to the spirit of the original and must be counted as one of the most successful operatic adaptations of a Shakespeare play. It is possibly the most beguiling and enchanting of all Britten's operas, a work with a spellbinding atmosphere that inhabits a truly unique dreamlike world.
Reproduced by kind permission of the Britten-Pears Library
Moods
Comic, Poetic, Romantic
Subjects
Recommended Recording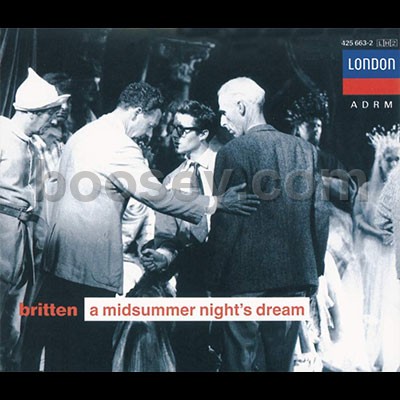 Brian Asawa/Sylvia McNair/John Mark Ainsley/Paul Whelan/Janice Watson/Robert Lloyd/Gwynne Howell/Ian Bostridge/London Symphony Orchestra/New London Children's Choir/Colin Davis
Philips 4541222
Click here to purchase this CD set from Amazon
Alfred Deller/Elizabeth Harwood/Peter Pears/Thomas Hemsley/Josephine Veasey/Heather Harper/John Shirley-Quirk/Helen Watts/Owen Brannigan/Robert Tear/London Symphony Orchestra/Benjamin Britten
Decca 4256632
Click here to purchase this CD set from Amazon
Links