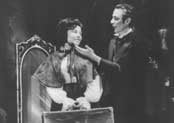 Photo: Frank Lotz Miller
Floyd, Carlisle
Opera in one act
Duration: 70 minutes
Music Text
Libretto by the composer, after the story by Robert Louis Stevenson (E)
Scoring
S,2T,BBar; chorus
2(II=picc).2(II=corA).2(II=bcl).2-4.2.2.1-timp.perc(2):chimes/vib/
xyl/glsp/gong/susp.cym/cyms/wdbl/whip/SD/TD/BD/tamb-harp-strings
Abbreviations (PDF)
Publisher
Boosey & Hawkes
Territory
This work is available from Boosey & Hawkes for the world.
World Premiere
3/31/1966
New Orleans, Louisiana
Carlisle Floyd, director
Conductor: Knud Anderson
Company: New Orleans Opera
Roles
| | |
| --- | --- |
| JOSIAH CREACH | Tenor |
| MARKHEIM | Bass-Baritone |
| TESS | Soprano |
| A STRANGER | Tenor |
| Carolers (off stage) | Mixed Chorus |
Time and Place
1880- London
Synopsis
Floyd conceived Markheim, a one-act dramatization of a short story by Robert Louis Stevenson, as a vehicle for the bass Norman Treigle, who sang the lead role in the premiere.
Markheim, a decadent aristocrat, tries to obtain money from a pawnshop on Christmas Eve.  When he is refused a loan – and taunted beyond endurance- by Josiah Creach, the pawnbroker, he kills Creach and searches for his cashbox.  A mysterious stranger enters the pawnshop and reveals supernatural knowledge of Markheim and his actions.
The stranger tells Markheim that if he forswears guilt and conscience, he will show him where the pawnbroker kept his money.  He also says that Creach's servant girl Tess will soon return and find her employer's body.  During an argument between Markheim and the stranger, Tess does return and the stranger urges Markheim to kill her also.
Markheim cannot murder the terrified girl and asks her to call the police.  The infuriated stranger vanishes.  Markheim hears Christmas carolers offstage.  Now, redeemed and in tears, he joins them in singing and awaits his arrest.


 
Subjects
Ethics, Literary, Magic/Mystery, Society
Recommended Recording
Norman Treigle, Alan Crofoot, Audrey Schuh and William Diard, New Orleans Opera, Knud Andersson
Video Artists International VAI 1107