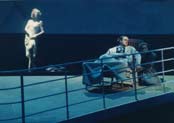 Photo: Thomas Huther
Argento, Dominick
The Dream of Valentino
(1993)
Opera in two acts
Duration: 135 minutes
Music Text
Libretto by Charles Nolte (E,G)
Scoring
colS,S,M,A,lyrT,T,BBar; chorus
2(II=picc).2(II=corA).2(I=asax, II=bcl).2(II=dbn)-3.2.1.1-timp.perc(2):
BD/bell tree/cast/chimes/choke cym/claves/cyms/glsp/maracas/SD/
steel plate/susp.cym/tamb/tam-t/tpl.bl/timbales/tgl/xyl-harp-synth
(Yamaha DX7).pft(=cel)-strings
Abbreviations (PDF)
Publisher
Boosey & Hawkes
Territory
This work is available from Boosey & Hawkes in der ganzen Welt.
Availability
Uraufführung
1/15/1994
The Kennedy Center, Washington, DC
Ann-Margret Pettersson, Regisseur
Conductor: Christopher Keene
Company: Washington Opera
Roles
| | |
| --- | --- |
| RUDOLPH VALENTINO | Tenor |
| JUNE MATHIS, Drehbuchschreiberin | Sopran |
| DER MOGUL | Baßbariton |
| MARVIN HEENO, Neffe und Assistent des Moguls | Lyrischer Tenor |
| NATACHA RAMBOVA, Hollywood-Regisseurin und Designerin | Mezzosopran |
| JEAN ACKER, eine junge Schauspielerin | Lyrischer Koloraturalt |
| Alla Nazimova, gefeierter Filmstar | Alt |
| Direktor eines Ballsaals | Bariton |
| Eine Frau in Rot | Mezzosopran |
| 4 Jasager | 2 Tenöre, 2 Bässe |
| 3 Reporter | Tenor, Bariton, Bass |
| 3 Sekretärinnen | Sopran, 2 Altstimmen |
| Dialogtrainerin | Sopran |
| 6 (oder 3) Fotografen | 2 Tenöre, 2 Baritone, 2 Bässe |
| Maskenbildnerin | Alt |
| Mann für Öffentlichkeitsarbeit | Bariton |
| Kostümier | Tenor |
| Anwalt | Baß |
| Mann mit Haftbefehl | Tenor |
Time and Place
New York und Los Angeles, in den 20ern
Synopsis


Kaum aus Italien angekommen, ist Rudolph Valentino schon der beliebteste Tänzer in einem Broadway-Tanzpalast. Eigentlich aber will er ein großer Bühnenschauspieler sein. Er begegnet June Mathis, die gerade Recherchen für Filme anstellt. Sie lässt sich von ihm betören und sagt ihm eine Karriere in Hollywood voraus. Der "Mogul" sieht Rudolph Valentino als Nebendarsteller in einer Billig-Filmproduktion an und nimmt sich vor, ihn weiter zu beobachten, obwohl er bei Metro, einem konkurrierenden Studio, unter Vertrag ist. Valentino unterschreibt eine persönliche Vereinbarung mit der berühmten Schauspielerin Alla Nazimova und macht der Schauspielerin Jean Acker einen Heiratsantrag, der in einer desaströsen Verbindung endet. Valentino wird mit The Four Horsemen of the Apocalypse über Nacht ein Star, und der Mogul kauft Valentinos Metro-Vertrag auf.

Während der Dreharbeiten zu The Sheik erfährt der von allen Seiten kritisierte Mogul sowohl von Valentinos Vertrag mit Nazimova als auch von seiner skandalträchtigen Ehe mit Acker. Infolgedessen wird Valentino gegen seinen Willen zu seinem nächsten Film gezwungen, Monsieur Beaucaire, der ein Flop wird. Valentino entgleiten die Zügel seiner Karriere; er kehrt Hollywood den Rücken und beginnt ein Leben als wandernder Schauspieler und Tänzer. Als die Schlagzeilen bereits von Valentinos Tod berichten, stirbt er in einem New Yorker Krankenhaus. Am Ende zeigen sich die Gäste auf seiner Beerdigung auf unterschiedliche Weise von der tragischen Schauspielerlegende inspiriert.
Moods
dramatisch, romantisch, tragisch
Subjects
Links