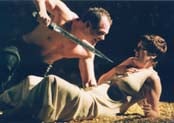 Photo: Bill Rafferty
Britten, Benjamin
The Rape of Lucretia
(1946, rev.1947)
Opera in two acts
Duration: 107 minutes
Music Text
Libretto by Ronald Duncan, after the play by André Obey (E,Cz,Fl,G,I,S,Sc)
Scoring
2S,M,A,T,2Bar,B
1(=picc,afl).1(=corA).1(=bcl).1-1.0.0.0-perc(1):timp/susp.cym/gong/
BD/TD/SD/tgl/whip/tamb-harp-pft(=conductor)-strings (1.1.1.1.1)
Abbreviations (PDF)
Publisher
Boosey & Hawkes
Territory
This work is available from Boosey & Hawkes for the world.
Availability
World Premiere
7/12/1946
Glyndebourne
Eric Crozier, director
Conductor: Ernest Ansermet
Company: Glyndebourne Festival Opera
Roles
| | |
| --- | --- |
| MALE CHORUS | Tenor |
| FEMALE CHORUS | Soprano |
| COLLATINUS, a Roman general | Bass |
| JUNIUS, a Roman general | Baritone |
| PRINCE TARQUINIUS, son of the Etruscan tyrant, Tarquinius Superbus | Baritone |
| LUCRETIA, wife of Collatinus | Contralto |
| BIANCA, Lucretia's nurse | Mezzo-Soprano |
| LUCIA, Lucretia's maid | Soprano |
Time and Place
In or near Rome, 500 B.C.
Synopsis
The Male and Female Chorus describe the historical background to the story, and reveal their view of events to be that of a later, Christian era. The action is set in and around Rome immediately before the end of the reign of the Etruscan king Tarquinius Superbus in 510 BC. At a military camp outside the city his son, the prince Tarquinius Sextus, is drinking with two generals, Collatinus and Junius. They discuss an earlier, unfortunate bet, in which the constancy of various Roman wives was tried and found wanting. Of the married men (Tarquinius goes to brothels) only Collatinus can boast a wife, Lucretia, who was discovered sleeping alone in her husband's absence. Urged on by the malicious Junius, Tarquinius decides to prove Lucretia chaste by attempting her virtue himself, and rides off to Rome.
There his arrival at her house produces consternation, but hospitality forces Lucretia to offer him a room for the night, despite her misgivings and those of her servants. Tarquinius's purpose, however, is made clear when he wakes her and forces himself upon her before leaving her house. The following morning her late appearance in a distressed, broken state is only slowly understood by her nurse Bianca and maid Lucia, and her husband is sent for. Collatinus arrives with Junius to hear the news, and despite his at least partial understanding of Lucretia's shame it is too painful for her to bear, and she stabs herself. Her death provides the impetus for the Romans to throw out the Tarquins. The Male and Female Chorus attempt to come to terms with these events in a Christian context.
Repertoire Note
It was a combination of economic realities and aesthetic preferences that encouraged Britten to develop the concept of chamber opera, employing a small cast without chorus and an orchestra of just thirteen players. His first work in the new medium was The Rape of Lucretia, first performed just over a year after Peter Grimes, in 1946. There is, however, no loss of colour and atmosphere – indeed the pared-down textures produced an intensification of Britten's operatic vision which was to serve him further in Albert Herring and The Turn of the Screw.
With the roles of the Male and Female Chorus, who comment on the action 'out of time' (as in Greek tragedy) and the use of solo piano accompaniment to accompany recitative passages, Lucretia achieves a certain 'classical' poise and detachment. However, Lucretia and Tarquinius are flesh-and-blood characters driven by real human emotions and desires (Lucretia's music is surely some of Britten's most sheerly beautiful) and the resulting amalgam is an opera of great musico-dramatic power and expressive richness.
Reproduced by kind permission of the Britten-Pears Library
Moods
Dramatic, Poetic, Tragic
Subjects
Recommended Recording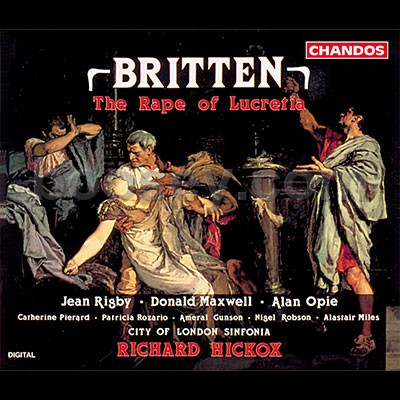 English National Opera / Lionel Friend
Arthaus DVD 102021
Click here to purchase this DVD from our online shop

Jean Rigby/Nigel Robson/Catherine Pierard/Donald Maxwell/Alastair Miles/Alan Opie/Patricia Rozario/Ameral Gunson/City of London Sinfonia/Richard Hickox
Chandos CHAN 9254
Links