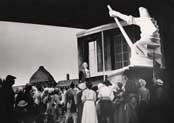 Photo: Roger Wood
Benjamin, Arthur
A Tale of Two Cities
(1949-50)
Romantic Melodrama in six scenes
Duration: 135 minutes
Music Text
Libretto by Cedric Cliffe after the novel by Charles Dickens (E)
Scoring
Major roles: dramS,lyrS,2T,Bar
minor roles: S,lyrS,3A,4T,4Bar,4B,3speakers,child mime; chorus
3.2.2.2-4.0.3.1-timp.perc:glsp/tamb/SD/TD/BD/cyms/gong/chains/tgl/
coconut shells-harp-cel-pft-strings
Abbreviations (PDF)
Publisher
Boosey & Hawkes
Territory
This work is available from Boosey & Hawkes for the world.
Availability
World Premiere
4/17/1953
BBC, London
Conductor: Arthur Benjamin
Company: BBC Broadcast
World stage premiere
7/22/1957
Sadler's Wells, London
Anthony Besch, director
Conductor: Leon Lovett
Company: New Opera Company
Roles
| | |
| --- | --- |
| MADAME DEFARGE | Dramatic Soprano |
| LUCIE MANETTE | Lyric Soprano |
| DOCTOR MANETTE | Tenor |
| CHARLES DARNAY | Tenor |
| SYDNEY CARTON | Baritone |
| 1ST WOMAN | Soprano |
| 2ND WOMAN | Mezzo-Soprano |
| 3RD WOMAN | Contralto |
| MISS PROSS | Contralto (character) |
| THE YOUNG COUNTESS | Lyric Soprano |
| LORRY | Baritone |
| DEFARGE | Bass |
| JACQUES I | Baritone |
| JACQUES II (a cripple) | Bass |
| JACQUES III | Tenor |
| JACQUES IV | Tenor |
| THE MARQUIS DE SAINT EVREMONDE | Baritone |
| GABELLE (his steward) | Bass |
| THE SPY | Tenor |
| HURDY-GURDY MAN | Baritone |
| THE OLD MARQUIS | Bass |
| APPLE SELLER | Contralto |
| CORPORAL | Spoken role |
| OLD COUNT | Spoken role |
| OLD MARQUISE | Spoken role |
| THE LITTLE SON OF JACQUES IV | Silent role |
| CHORUS | SATB |
Time and Place
Paris and London, 1783/1789
Synopsis
In a wine shop in Paris the discontented poor complain of the inequities of their lot, encouraged by the owner Defarge and his wife. Revenge, they say, is coming. Sounds of an accident outside alert them to the fact that a child has been killed by a carriage – the unconcerned owner, the Marquis de Saint Evremonde, offers the bereaved father a purse, but it is refused. Lucie Manette arrives and is reunited with her father, Dr Manette, who had been held prisoner in the Bastille for fifteen years. Six years later, in a Soho garden, Lucie is preparing to celebrate her engagement on her 21st birthday to Charles Darnay, nephew of Saint Evremonde who has renounced his family's repressive associations. The lawyer Sydney Carton, who has already saved Darnay's life when he was tried on suspicion of being a French spy, and is in love with Lucie, reacts badly to the news of the engagement and laments the waste of his life. The scene returns to the wine shop, where Madame Defarge and her associates are celebrating the fall of the Bastille. They force Gabelle – a former servant of the Saint Evremonde family – to write to Darnay in England to come to his assistance. At the Revolutionary Tribunal Darnay stands accused by Defarge and his wife, but the most damning evidence is contained in papers written by Manette whilst in prison. Darnay is condemned to death for his father's crimes. Later, Carton visits him in prison, drugs him and substitutes himself for the condemned man. In the final scene in the Place de la République, Carton goes bravely to his death, comforting the last moments of a young condemned girl. Madame Defarge at last realises the substitution, and falls down senseless, cheated of her revenge.
Moods
Dramatic, Romantic, Tragic
Subjects