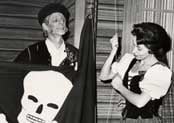 Photo:
Floyd, Carlisle
The Sojourner and Mollie Sinclair
(1963)
Opera in one act
Duration: 75 minutes
Music Text
Libretto by the composer (E)
Scoring
S,M,T,Bar,BBar; chorus
1(=picc).1(=corA).1(=bcl).1-1.1.1.0-timp.perc(1):SD/cyms/glsp/BD/
xyl/TD/tgl/gong-harp-strings(or 1.1.1.1.1)
Abbreviations (PDF)
Publisher
Boosey & Hawkes
Territory
This work is available from Boosey & Hawkes for the world.
Availability
World Premiere
12/2/1963
Raleigh, North Carolina
Edgar R. Loessin, director
Conductor: Julius Rudel
Company: East Carolina Opera Workshop
Roles
| | |
| --- | --- |
| JENNY MACDOUGALD | Soprano |
| LACHLAN SINCLAIR | Tenor |
| DOUGALD MACDOUGALD | Bass Baritone |
| SPOKESMAN | Baritone |
| MOLLIE SINCLAIR | Mezzo-Soprano |
| Kinsmen | Mixed Chorus |
| Brigade of Men | Silent |
| Slaves | Male Chorus |
Time and Place
Mid 18th century, a plantation on the Cape Fear River in colonial North Carolina
Synopsis
Setting: Colonial North Carolina, mid-18th century
It is the 60th birthday of Dougald MacDougald, once a Scottish laird in his home country and now a man of rank and privilege in colonial North Carolina. Although he has been in the colonies many years, his heart remains in his homeland: he is loyal to King George III and flies the Union Jack.
Outside their home, MacDougald's daughter, Jenny, banters with Lachlan Sinclair, who wants to marry her. They joke about the rancor between Dougald and Lachlan's mother, Mollie, who is preparing to lead a march protesting King George's Stamp Act.
Dougald's kinsmen come to offer birthday greetings, and as they dance the Highland fling in his honor, Mollie and her protestors arrive to ask Dougald and the kinsmen to join the march. Dougald is angry, but Mollie explains that British warships are in the harbor at that very moment to enforce the Stamp Act and reminds Dougald why he left Scotland in the first place.
The kinsmen ask Dougald whether they should join the march, assuring him they will obey his instructions. Saying he needs to think, Dougald goes into the house. Mollie follows and, through the closed door, opens her heart to him. She tells him she also aches for their homeland but that they cannot go back nor can they straddle two cultures. When Dougald comes outside again, he manages to admit that Mollie is right. He renounces his privileges as laird and encourages his kinsmen to do as they think best regarding the protest. He lowers the Union Jack, and in its place, he raises a pirate's flag as a rebuke to the British Crown.
Subjects
Recommended Recording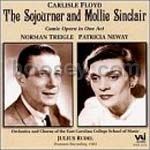 Patricia Neway, Norman Treigle, Anne Hearne Moss, William Newberry, Jerold Teachey, East Carolina College School of Music Chorus, East Carolina College School of Music Orchestra, Julius Rudel
Video Artists International VAIA1172
Links