Deutsch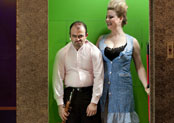 Photo: http://www.fotomalinowski.eu
WP 2012, Kay Link dir.
Offenbach - Link
Das Gift im Lift – warum Orpheus ganz nach unten fuhr (1858/2012)
(Poison in the lift)
Duration: 75 minutes
Operetta for children, based on Offenbach's 'Orphée aux Enfers', by Kay Link
Original libretto by Hector Crémieux and Ludovic Halévy, adapted by Kay Link (G)
Scoring
vln-pft; alternative versions with orchestra or (on request) with salon orchestra; the work may be performed by professional adult singers or by children/teenagers; a reduced versino for 6-7 singers (instead of 9) is also available.
Abbreviations (PDF).
Territory
This work is available from Boosey & Hawkes for the world.
World premiere of version
18/03/2012
Bayer Kulturhaus - Erhohlungshaus, Leverkusen
Kay Link, director
Conductor: Yoshiko Hashimoto
Company: Students of Musikhochschule Köln & soloists
Roles

| | |
| --- | --- |
| ORPHEUS, musical teacher | Lyric Tenor |
| EURIDIKE, his wife | Soprano |
| ARISTEUS SHEPHERD, their neighbour / PLUTO | Lyric Tenor |
| PUBLIC OPINION, caretaker | Alto |
| The flat-sharing community of the Gods: | |
| JUPITER, father of the Gods | Baritone |
| JUNO, his wife | (Mezzo-)Soprano |
| MERCURY, messenger of the Gods | Lyric Tenor |
| VENUS, goddess of Love | Soprano |
| CUPID | |
Time and Place
A multistorey tenement block
Synopsis
Orpheus, a music teacher, lives with his wife Eurydike on the ground floor. The two of them argue all the time. Orpheus is a serial womanizer but Eurydike has a lover of her own: Aristeus, who, it turns out, is none other than Pluto, the god of the underworld, in disguise.

In the penthouse apartment shared by the gods, there is no less trouble than below. Father Jupiter, Pluto's brother, plays the boss; he is no less a philanderer than Orpheus. In addition, he doesn't bother helping out in the household but leaves it to his family, who get quite angry.

Orpheus' male honour is hurt; he lays a deadly snare for Aristeus. Accidentally, Euridyke is the one who walks into the trap. Aristeus turns back into the shape of Pluto and takes Eurydike with him to the underworld. Public Opinion demands that Orpheus, who is secretly glad to have got rid of Eurydike, bring her back – as prescribed by mythology. Worried about his reputation, Orpheus sets out to seek Jupiter.

Jupiter insists that gods have to be role models and goes down to the basement, joined by his family, Orpheus and Public Opinion, in order to search for Eurydike, since Pluto denies having kidnapped her. While everybody is having a good time down there, Jupiter finds Eurydike and promises her to take her upstairs to where the gods live. Trying to steal away, they are discovered. Jupiter decides that Orpheus is allowed to take Eurydike home if he doesn't turn back to her on the way, but of course he makes sure that Eurydike stays. And while Eurydike and Juno as well as Pluto and Jupiter start quarreling, the gods' children seize control…
Moods
Comic
Subjects
Mythology, Relationships
Mailing List
Sign up for news updates and offers via email
SIGN UP
ONLINE SCORES