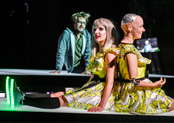 Photo: Toni Suter
Evers, Leonard
Science fiction opera
Duration: 70 minutes
Music Text
Libretto by Pamela Dürr (G)
Scoring
S,M,CT(orM),T,2Bar;
1.1.1.1-1.1.0.0-perc(2):vib/BD/2wdbl(hi,lo)/bongos/crot/glsp/maracas/dr set(SD/BD/hi-hat/ride cym)/susp.cym/tam-t/elec.gtr(ampl)/metal items-pft-strings(1.1.1.1.1 or more)
Abbreviations (PDF)
Publisher
Boosey & Hawkes / Bote & Bock
Territory
This work is available from Boosey & Hawkes for the world.
Availability
World Premiere
2/21/2019
Theater, Winterthur
Cordula Däuper, director
Conductor: Sebastian Schwab
Company: Konzert Theater Bern / Musikkollegium Winterthur
Roles
| | |
| --- | --- |
| JONAH, programmer | Tenor |
| VIVIENNE, his ex-girlfriend | Mezzo-soprano |
| ALMA, android | Soprano |
| JURI, android | Baritone |
| PIET, Jonah's best friend | Baritone |
| The child | Counter Tenor (or Mezzo-soprano) |
Repertoire Note
In chamber-opera format, humanoid is intended to address audiences between 14 and 21 years of age. The focus of the opera: the relationship between human beings and machines, the descent into and losing oneself in digital worlds. Swiss author Pamela Dürr has created a thriller that lets the boundaries between artificial intelligence and human emotion become blurred.
The year is 2037: the young computer programmer Jonah experiments with androids. He replaces his partner Vivienne, who died in an accident, with the android Alma, whose memory he deletes every evening to be on the safe side. A mysterious child saves Alma's memory data onto the hard disk of the other android. This figure questions the events in a childlike naive manner, causing Jonah to lose control. Which feelings are real, which are programmed? A deadly game between a human being and an android begins.
"In spite of the thriller-like story," so Leonard Evers, "the piece touches on fundamental philosophical questions about human relationships and the possibility of assuming responsibility for one's life." The music of humanoid follows the SciFi strategies of the plot, but also emphsizes emotions, whereby it does not employ electronics, but rather limits itself to acoustic instruments.
Subjects
Links