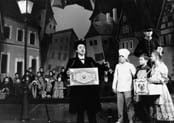 Photo: Gudrun Bublitz
Krása, Hans
Opera for children
Duration: 30 minutes
Music Text
Libretto by Adolf Hoffmeister; German translation by Frank Harders-Wuthenow and Matthias Harre; English translation by Joza Karas; new English adaptation by Tony Kushner (Cz,E,G; other languages available on request)
Scoring
Children's choir with 10 major roles;
Prague version (1938): 1(=picc).0.2.0-0.1.0.0-perc(3):cyms/BD/SD-pft-strings(1.1.0.1.0 or tutti);
Terezín version (1943): 1(=picc).0.1.0-0.1.0.0-perc(1):BD/SD-pft-gtr-strings(4.0.0.1.1);
On-stage: accordion;
Terezín version also available in an arrangement for one piano, or for two pianos
Abbreviations (PDF)
Publisher
Tempo / Boosey & Hawkes Bote & Bock
Territory
This work is available from Boosey & Hawkes for the world.
Availability
World premiere of version
9/23/1943
Terezin
Company: Inmates of the Terezín transit camp
Roles
| | |
| --- | --- |
| Children's choir with 10 major roles: | |
| ANINKA | |
| PEPICEK | |
| BRUNDIBÁR | |
| ICEMAN | |
| BAKER | |
| MILKMAN | |
| POLICEMAN | |
| SPARROW | |
| CAT | |
| DOG | |
Synopsis
Aninka and Pepicek go to the market to get some milk for their sick mother. As they dont have any money, they decide to follow the example of the organ grinder, Brundibár – people throw coins in his hat when he makes music. Aninka and Pepicek sing their favourite song but nobody listens to them. When they try to draw attention to themselves, they are chased away from the market for being a nuisance. It is almost dusk. Aninka and Pepicek don't know what to do. How can they sing louder than the bad old organ grinder with their small voices? Lots of children must sing – that might work. At this cue, a dog, a cat, and a sparrow are on the spot and promise to help. The next morning, the animals round up all the children in town, who make a large choir. The plan succeeds: their singing is louder than the barrel organ, the people listen, and soon Pepicek's cap is full of coins. Suddenly, Brundibár appears, grabs the cap from Pepicek, and tries to run away with the money. However, he is only one against many and he doesn´t stand a chance. The children celebrate their victory and the choir sings of friendship and support for each other.
Subjects
Recommended Recording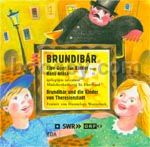 collegium iuvenum / Mädchenkantorei St Eberhard / Friedemann Keck
(P) 1999 Edition Abseits
EDA LC 06957
Links