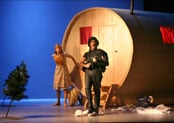 Photo: Derek Speirs
Weinberger, Jaromír
Schwanda the Bagpiper
(Svanda Dudak / Schwanda, der Dudelsackpfeifer)
(1927)
Folk opera in two acts
Duration: 115 minutes
Music Text
Libretto by Milos Kares (Cz,G)
Scoring
Major roles: dramS,heldT,Bar; minor roles: dramM,B;
small roles: 5T,2B; chorus;
3(II,III=picc).2(II=corA).2(II=bcl).2(II=dbn)-4.3(=bugles).3.1-
timp.perc(3): tgl/cyms/SD/BD/tam-t/tamb/xyl/glsp/carillon-2harp-cel-org-
strings;
Reduced scoring: 2(II=picc).2.2.2-3.2.2.0-timp.perc:3tgl/cyms/BD/SD/t
am-t/susp.cym/xyl/tamb/chimes/t.bells-org-cel-pft(ad lib)-strings
Abbreviations (PDF)
Publisher
Boosey & Hawkes
Territory
This work is available from Boosey & Hawkes for the world excluding USA.
Availability
World Premiere
4/27/1927
National Theatre , Prague
Conductor: Otakar Ostrcil
Company: National Theatre, Prague
Roles
| | |
| --- | --- |
| SCHWANDA THE BAGPIPER | Baritone |
| DOROTA, his wife | Dramatic Soprano |
| BABINSKY, a romantic robber | Heldentenor |
| THE QUEEN | Mezzo Soprano |
| THE MAGICIAN | Bass |
| THE JUDGE | Tenor |
| THE EXECUTIONER | Tenor |
| THE DEVIL | Bass |
| THE DEVIL'S FAMILIAR SPIRIT | Tenor |
| THE CAPTAIN OF HELL'S GUARD | Tenor |
| TWO FOREST RANGERS | Tenor, Bass |
Time and Place
Fairytale setting
Synopsis
Schwanda, the finest bagpiper in the region, lives with his wife Dorota in great happiness. One day, however, the robber Babinski, who is being pursued by foresters, turns up at their home and receives a warm welcome. Schwanda hears Babinski's stories of other countries and great wealth with interest, and agrees to go with him to visit a sad Queen, in the spell of a wicked Magician, whom nothing can cheer up. With Babinski he soon arrives in the Queen's palace, where his music-making has the desired effect, making all the courtiers dance and the Queen herself smile. She is so pleased that she offers to marry him and – momentarily forgetting Dorota – he agrees. The marital plans are forestalled, however, when Dorota turns up. Schwanda is threatened with execution, but Babinski returns the prisoner his bagpipes with which he is able to escape. When Dorota asks him if he kissed the Queen, Schwanda replies that he will go to hell if he did – and instantly finds himself there. The devil tricks Schwanda into signing away his soul, but Babinski saves him by beating the devil at a game of cards. At last he can return home, but Babinski – who wants Dorota for himself – tells Schwanda that in his long absence she has become an old woman. This proves not to be the case, and she and Schwanda are finally reunited.
Subjects
Recommended Recording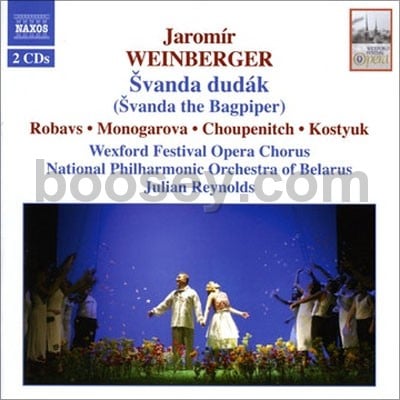 Matjaz Robavs/Tatiana Monogarova/Ivan Choupenitch/Larisa Kostyuk/Wexford Festival Opera Chorus/National Philharmonic Orchestra of Belarus/Julian Reynolds
Naxos 8.660146-47