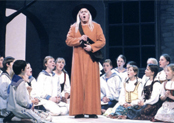 Photo: Dieter Wuschanski
Kienzl, Wilhelm
Der Evangelimann
(1893-94)
A musical play in two acts (three scenes)
Duration: 135 minutes
Music Text
Libretto by the composer after 'Aus den Berichten eines Polizeicommissärs' by Dr Leopold Florian Meißner (G); English version by Percy Pinkerton
Scoring
S,dramS,2lyrS,2M,A,dramT,lyrT,buffoT,2Bar,2B,buffoB; children's chorus; chorus;
3(III=picc).2(II=corA).2.bcl.2.dbn-4.3.3.1-timp.perc-harp-pft-strings;
Off-stage:signalhn.tpt.3trbn.tuba-perc-harp-harmonium-org
Abbreviations (PDF)
Publisher
Boosey & Hawkes / Bote & Bock
Territory
This work is available from Boosey & Hawkes for the world.
Availability
World Premiere
5/4/1895
Königliches Opernhaus, Berlin
Company: Unknown
Roles
| | |
| --- | --- |
| FRIEDRICH ENGEL, magistrate in the monastery of St. Othmar | Bass |
| MARTHA, his niece and charge | Dramatic Soprano |
| MAGDALENA, her friend | Contralto |
| JOHANNES FREUDHOFER, shool teacher in St. Othmar | Baritone |
| MATHIAS FREUDHOFER, his younger brother, clerk in the monastery | Dramatic Tenor |
| XAVER ZITTERBART, tailor | Buffo Tenor |
| ANTON SCHNAPPAUF, gun-smith | Buffo Bass |
| FRIEDRICH AIBLER, an older citizen | Baritone |
| HIS WIFE | Mezzo Soprano |
| FRAU HUBER | Lyric Soprano |
| HANS, a farmer's boy | Lyric Tenor |
| VOICE OF THE 'SKITTLE BOY' | Lyric Soprano |
| VOICE OF THE NIGHT-WATCHMAN | Bass |
| RAGWOMAN | Mezzo Soprano |
| BOY | Soprano |
| ORGAN GRINDER | |
| ABBOT | |
| Benedictines, Citizens, Peasants, Farm labourers | |
| Children | |
Time and Place
In the Benedictine monastery of St. Othmar in Lower Austria in the year 1820; Vienna in the year 1850
Synopsis
Mathias, clerk in the monastery of St. Othmar, is in love with Martha, the foster daughter of the magistrate Friedrich Engel. Mathias's brother Johannes is jealous of Martha's affection and starts an intrigue against him. When the magistrate is informed of what is happening between his charge and Mathias, he dismisses the clerk and expels him from the monastery. Martha resists Johannes's intrusiveness. When Johannes witnesses Martha and Mathias swearing fidelity to each other at the farewell, his jealousy turns into blind hate and he sets the monastery on fire. It is not he, however, but Mathias, who is arrested as the alleged wrongdoer. Mathias has served a twenty-year sentence and, having been denied re-integration into society, travels the country as an itinerant preacher. Martha took her life after his imprisonment, Johannes has become rich by dishonest means and lives in Vienna, now a severely ill man. Thirty years after the events at St. Othmar the brothers meet again. Mathias forgives Johannes, who can thus die in peace.
Subjects