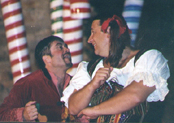 Photo: Cécile Laval
Offenbach - Keck
L' Ile de Tulipatan (OEK critical edition)
(Die Insel Tulipatan)
(1868)
Opéra-bouffe in one act
Duration: 50 minutes
Music Text
Libretto by Henri Ch. Chivot and Alfred Duru; original German version by Emil Pohl (F,G)
Scoring
S,M,3T; chorus;
2(II=picc).1.2.1-2.2.1.0-timp.perc-strings;
Viennese orchestration: 2(II=picc).2.2.2-4.2.3.0-timp.perc-strings
Abbreviations (PDF)
Publisher
Boosey & Hawkes / Bote & Bock
Territory
This work is available from Boosey & Hawkes for the world.
Availability
World Premiere
9/30/1868
Salle Choiseul, Paris
Company: unknown
World premiere of version
8/1/2003
Bruniquel
Frank T'Hézan, director
Conductor: Jean-Christophe Keck
Company: Cie de la Tour Brunehaut
Roles
| | |
| --- | --- |
| CACATOIS XXII, Duke of Tulipatan | Lyric Tenor |
| ALEXIS, his son | Soprano |
| ROMBOIDAL, Great Seneshal | Buffo Tenor |
| THEODORINE, his wife | Mezzo Soprano |
| HERMOSA, their daughter | Tenor |
| Soldiers, subjects | |
Time and Place
The Island of Tulipatan
Synopsis
Duke Cacatois is planning the wedding of his son Alexis to Hermosa, the daughter of the Great Seneshal Romboidal, yet he meets unexpected resistance. What the duke does not know is that his son is in fact his fourth daughter, born in his absence and brought up by his wife as crown prince. Romboidal knows about the deceit, but his wife Theodorine also has reasons to avert the marriage. Her husband in his turn does not know that their daughter is in truth a son who, in order to prevent his conscription, was brought up as a girl. Of course the young people have already fallen in love with each other, and this does not change when the cross-gender role-playing comes to light. Now there is nothing to stop the marriage.
Subjects
Links