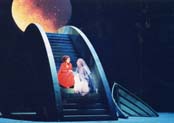 Photo: Theater Chemnitz / Dieter Wuschanski
Prokofieff, Serge
The Duenna (Betrothal in a Monastery)
(Die Verlobung im Kloster)
(1940-41)
Lyric comic opera in 4 acts (9 scenes)
Duration: 156 minutes
Music Text
Libretto by the composer and Mira Mendelson, after Sheridan's play (R,E)
Scoring
2S,M,C(or M),C,8T,T(or Bar),5Bar,4B,silent role; chorus
2.picc.2.corA.2.bcl.2.dbn-4.3.3.1-timp.perc:tgl/maracas/tamb/wooden dr/SD/cyms/BD/tam-t-hp-str. On-stage musicians (various scenes): gtr;cl-crt-perc(1):BD. Off-stage musicians (various scenes): perc(1):maracas-str(4.0.2.3.0); fl.asax-str(2.0.3.2.2);
2cl-2.1.1.1-perc:tgl/cyms/BD/pitched glasses
Abbreviations (PDF)
Publisher
Boosey & Hawkes / Sikorski
Territory
This work is available from Boosey & Hawkes / Sikorski for the UK, British Commonwealth (excluding Canada), Republic of Ireland, Germany, Switzerland, Denmark, Iceland, Norway, Sweden, Netherlands, Spain, Portugal, Greece, Turkey, Israel.
Availability
World Premiere
5/5/1946
National Theatre, Prague
Company: Prague National Theatre Opera
Roles
| | |
| --- | --- |
| DON JEROME, a rich man of Seville | Tenor |
| FERDINAND, his son | Baritone |
| LOUISA, his daughter | Soprano |
| THE DUENNA (MARGARET) | Contralto |
| ANTONIO, in love with Louisa | Tenor |
| CLARA D'ALMANZA, friend of Louisa | Mezzo-Soprano |
| MENDOZA, a rich fish merchant | Bass |
| DON CARLOS, an impoverished nobleman, friend of Mendoza | Baritone |
| FATHER AUGUSTINE, Father Superior of the monastery | Baritone |
| BROTHER ELIXIR | Tenor |
| BROTHER CHARTREUSE | Baritone |
| BROTHER BENEDICTINE | Bass |
| TWO MONKS | Tenors |
| LAURETTA, Louisa's maidservant | Soprano |
| ROSINA, Clara's maidservant | Contralto |
| LOPEZ, Ferdinand's servant | Tenor |
| Friend of Don Jerome | Non-singing |
| Servant of Don Jerome | Non-singing |
| Servants, Maidservants, Monks, Guests, Maskers, Tradespeople | |
Time and Place
Seville, 18th century
Synopsis
Don Jerome, a Seville nobleman, and Mendoza, a rich fish merchant, are going into business together. As part of the deal, Mendoza will marry Don Jerome's daughter. Louisa is however in love with the handsome Don Antonio. And her brother, Don Ferdinand, is wooing her best friend Clara, who is far from compliant. Louisa asks her duenna, who has designs on marrying Mendoza herself, to help and they devise a plot. They provoke Don Jerome into dismissing the duenna from his house, after she and Louisa have exchanged clothes and veils. In the street, Louisa meets Clara who is angry with Ferdinand and is planning to retreat to a monastery. She agrees to swap clothes with Louisa so she can meet Antonio. Meanwhile the duenna, dressed as Louisa, persuades Mendoza to elope as this would be more 'romantic'. Don Jerome is surprised to learn of the elopement but sends his blessing. More confusingly, Louisa herself requests a marriage blessing, which he also grants. In the monastery, Louisa pleads with Clara to accept her brother Ferdinand. Antonio appears and Louisa and he go off to get married. They are seen by Ferdinand, who imagines that Antonio is marrying Clara. His jealousy is secretly observed by the real Clara, who now accepts the extent of Ferdinand's love. After further misunderstandings in the presence of a group of drunken monks, the two young couples are properly reunited and their marriages are blessed. In Don Jerome's house, Mendoza presents himself to be married with Louisa – in truth the duenna. When the deception is revealed, he leaves in anger. Don Jerome, learning that his son will marry the enormously rich Clara, puts his business plans aside and allows Louisa to marry Antonio, even though he has no money.
Subjects
Recommended Recording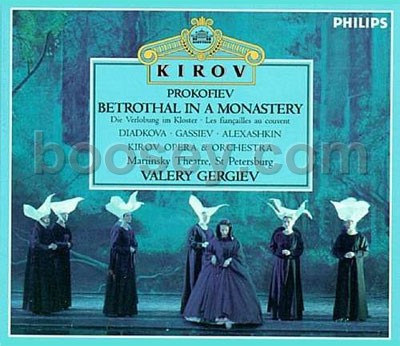 Nikolai Fassiev/Alexander Gergalov/Anna Netrebko/Larissa Diadkova/Kirov Chorus & Orchestra/Valery Gergiev
Philips 462 107 (3 CDs)
Links