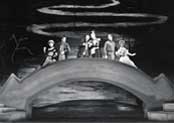 Photo: Yale University
Martinu, Bohuslav
Comedy on the Bridge
(Veselohra na moste)
(1935, rev.1951)
Comic opera in one act
Duration: 35 minutes
Music Text
Libretto by the composer, after a play by Vaclav Klicpera (Cz,E,F,G)
Scoring
S,A,T,Bar,B,3speakers;
1(=picc).1.1.1-2.1.1.0-timp.perc:cyms/tgl/BD/SD-pft-strings
Abbreviations (PDF)
Publisher
Boosey & Hawkes
Territory
This work is available from Boosey & Hawkes for the world.
Availability
World Premiere
3/18/1937
Czech Radio, Prague
Conductor: Otakar Jeremias
Company: Czech Radio
World stage premiere
5/28/1951
Hunter College, New York, New York
Conductor: Carl Bamberger
Company: Hunter College
Roles
| | |
| --- | --- |
| POPELKA, the village beauty | Soprano |
| SYKOS, a fisherman, her fiance | Baritone |
| BEDRON, a hops-grower | Bass |
| EVA, his wife | Contralto |
| THE SCHOOLMASTER | Tenor |
| FRIENDLY SENTRY | Spoken role |
| ENEMY SENTRY | Spoken role |
| FRIENDLY OFFICER | Spoken role |
Time and Place
First half of the 19th Century. A bridge over a river.
Synopsis
The action takes place on a bridge across a river separating two opposing armies during the first half of the nineteenth century. Josephine, who has been to the battlefield and buried the headless corpse of her brother, is allowed to pass by the enemy sentry who, however, keeps the slip of paper from his commanding officer. The sentry on her own side refuses her request to pass, and she is forced to remain on the bridge. The brewer from her village is allowed on to the bridge by his own side, then refused exit at the other. Both are now stuck, and the brewer engages Josephine in some mild flirtation. Next her fiancé Johnny turns up, and charges Josephine with unfaithfulness. The Brewer's wife Eva arrives and is drawn into the argument. Finally the schoolmaster comes along, deeply concerned about the solution to a riddle set him by Colonel Ladinsky, an officer on the friendly side: a deer is in a field surrounded by a wall too high and steep to jump or climb. How does it get out? The riddle reflects, of course, the characters' predicament, since neither of the sentries at either side of the bridge will allow them to pass. As the sounds of battle are heard offstage, the two couples make peace with one another. Then victory is announced – their own side has won. Officer Ladinsky arrives and tells Josephine her brother is alive – she buried someone else's body. He also tells them the solution of the riddle – the deer does not escape. All laugh and celebrate victory.
Subjects
Recommended Recording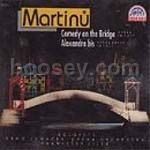 Jarmila Krátká, René Tucek, Brno Janácek Opera Orchestra, Frantisek Jílek
Supraphon 1121402