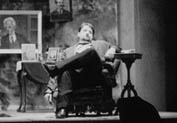 Photo: Carl Brandon
Argento, Dominick
One act opera buffa
Duration: 55 minutes
Music Text
Libretto by John Olon-Scrymgeour based on the play by Anton Chekhov (E,G)
Scoring
S,T,BBar
1(=picc).1(=corA).2(II=bcl).1-2.1.0.0-timp.perc:xyl/tgl/glsp/SD/BD/
susp.cyms/tamb-pft-strings
Abbreviations (PDF)
Publisher
Boosey & Hawkes
Territory
This work is available from Boosey & Hawkes for the world.
Availability
World Premiere
5/6/1957
Rochester, NY
Leonard Treash, director
Conductor: Frederick Fennell
Company: Eastman School of Music
Roles
| | |
| --- | --- |
| THE WIDOW, young and pretty | Soprano |
| THE BOOR, a middle-aged man | Bass-Baritone |
| THE SERVANT, an old man | Tenor |
Time and Place
19th Century- the house of the widow
Synopsis
A widow has spent a year mourning the passing of her husband.  Now, a middle-aged country gentleman, the boor, comes to her demanding payment of an old debt left by her departed husband.  She refuses to pay, and he refuses to leave.  The argument escalates until the widow challenges the boor to a duel.  This show of strength and determination on the part of the widow attracts the boor's interest: He swears he loves her and wants to marry her.  She threatens to shoot him with her husband's dueling pistol, but she weakens as he shows his devotion, and instead she kisses him.  Ironically, the debt that ultimately brings the boor and the widow together is for oats that her husband bought for his horse Toby, his means of transportation to many illicit encounters.  The widow's servant encourages her to end her mourning and return to happier times.
Subjects
Links