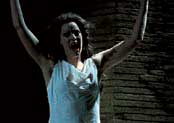 Photo: Bill Rafferty
Strauss, Richard
Music Drama in one act
Duration: 100 minutes
Music Text
Libretto drawn by the composer from Oscar Wilde's tragedy (G,Cz,E,F,I)
Scoring
Major roles: S,M/A,T,3Bar; minor roles: A,5T,5B,mime
3.picc.2.corA.heckelphone.4.Ebcl.bcl.3.dbn-6.4.4.1-
timp(2).perc(6-7):tam-t/cyms/BD/SD/tamb/tgl/cast/glsp/xyl-
2harp-cel-harm-org-strings(16.16.10-12.10.8)
Reduced version(Strauss):
3(III=picc).2.corA.2.Ebcl.bcl.3(III=dbn)-4.3.3.1-
timp.perc(6-7):tam-t/cyms/BD/SD/tamb/tgl/cast/glsp/xyl-harp-cel-strings
(16.16.10-12.10.8)
Abbreviations (PDF)
Publisher
Boosey & Hawkes
Territory
This work is available from Boosey & Hawkes for all countries except Germany, Italy, Portugal, Danzig, and the former territories of the USSR.
Availability
World Premiere
12/9/1905
Hofoper, Dresden
Conductor: Ernst von Schuch
Company: Dresden Hofoper
Roles
| | |
| --- | --- |
| HERODES, Tetrach of Judea | Tenor |
| HERODIAS, wife of the Tetrach | Mezzo-soprano |
| SALOME, daughter of Herodias | Soprano |
| JOCHANAAN, a prophet | Baritone |
| NARRABOTH, a young Syrian | Tenor |
| A PAGE | Alto |
| 5 JEWS | 4 Tenors, 1 Bass |
| 2 NAZARENES | Tenor, Bass |
| 2 SOLDIERS, A CAPPADOCIAN | Basses |
| A SLAVE | Silent role |
Time and Place
c.30 AD, a great terrace in the Palace of Herod at Tiberias, Galilee
Synopsis
Narraboth, the Captain of Herod's guard, is fascinated by the princess Salome's beauty. When she enters onto the palace terrace the voice of the prophet Jokanaan is heard from the cistern where he is imprisoned. She orders him to be raised up and Narraboth eventually surrenders to her will and disobeys Herod's decree. Jokanaan emerges into the moonlight and denounces the incestuous union of Herod and Salome's mother Herodias and demands that Salome repents and follows Christ. Equally apalled and mesmerised she is increasingly overcome by desire, praising his body, hair and mouth. Narraboth is distraught and kills himself, but Salome steps over his body in pursuit of her passion. Jokanaan curses her and returns to his prison. Herod emerges from the palace with Herodias, seeking Salome who ignores his advances. Stepping in Narraboth's blood - a bad omen - he seeks relief from his nightmare visions. The voice of Jokanaan is heard again and Herodias demands that he be delivered to the Jews, provoking a religious debate about the true nature of the prophet and of Christ himself. Herod's attention is solely focused on Salome who he begs to dance for him and swears an oath to grant her any wish. She performs the Dance of the Seven Veils and tells the horrified Herod that her payment will be the head of the prophet. She waits nervously at the edge of the cistern until the executioner delivers her prize on a silver platter. She ecstatically kisses Jokanaan's lips, achieving fulfilment at last. In disgust, Herod orders her death.
Subjects
Recommended Recording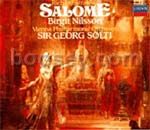 Inga Nielsen, Robert Hale, Reiner Goldberg, Anja Silja, Deon van der Walt, Marianne Rorholm, Bent Norup, Morten Frank Larsen, Per Hoyer, Stephen Milling, Anders Jokobsson, Henriette Bonde Hansen, Danish National Radio Symphony Orchestra, Michael Schonwandt
Chandos 9611
Click here to purchase this CD set from Amazon
Birgit Nilsson, Eberhard Waechter, Gerhard Stolze, Grace Hoffman, Waldemar Kmentt, Josephine Veasey, Tom Krause, Nigel Douglas, Zenon Koznowski, Heinz Holecek, Theodore Kirschbichler, Liselotte Maikl, Vienna Philharmonic Orchestra, Sir Georg Solti
Decca 4144142
Links