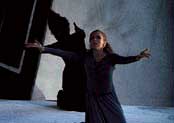 Photo: Alastair Muir
Strauss, Richard
Die ägyptische Helena
(The Egyptian Helen)
(1924-27)
Opera in two acts
Duration: 150 minutes
Music Text
Libretto by Hugo von Hofmannsthal (G,E)
Scoring
Major roles: dramS,dramcolS,heldT,heldBar
small roles: 4S,M,2A,T; chorus
4(III,IV=picc).2.corA.3.bcl.3(III=dbn)-6.6.3.1-timp.perc:BD/tam-t/
SD/cyms/glsp-cel-2harp-org-strings(16.14.10.10.8)
Stage band: 0.6.6.0-4.2.4.0-timp.perc:4tgl/2tamb/windmachine
Abbreviations (PDF)
Publisher
Boosey & Hawkes
Territory
This work is available from Boosey & Hawkes for all countries except Germany, Italy, Portugal, Danzig, and the former territories of the USSR.
Availability
World Premiere
6/6/1928
Sächsisches Staatstheater Opernhaus, Dresden
Conductor: Fritz Busch
Company: Dresden State Opera
Roles
| | |
| --- | --- |
| HELEN, wife of Menelaus | Soprano |
| MENELAUS | Tenor |
| HERMIONE, their child | Soprano |
| AITHRA, the daughter of an Egyptian King, a sorceress | Soprano |
| ALTAIR | Baritone |
| DA-UD, his son | Tenor |
| 2 SERVANTS OPF AITHRA | Soprano, Mezzo Soprano |
| THREE ELVES | 2 Sopranos, Contralto |
| THE OMNISCIENT SEA-SHELL | Contralto |
| Elves, male and female warriors, slaves, eunuchs | chorus |
Time and Place
Egypt, 1193-1184 B.C. (after the Trojan War)
Synopsis
In the Egyptian palace of the sorceress Aithra, the omniscient mussel (an all-knowing sea-shell left by Aithra's lover Poseidon) sights a ship bound for Sparta. On board is the raging Menelaus who is determined to kill Helen for her faithlessness and for causing the death of so many Greeks. A storm is conjured up and the couple are shipwrecked near the palace. Aithra, with the help of some magical lotus juice, convinces Menelaus that Helen of Troy was an illusion of the gods, that the real Helen was faithful, and that they should be sent on a second honeymoon to an oasis beneath the Atlas Mountains. Helen and Menelaus are entertained by a desert sheik and his son, but the foursome find themselves trapped in a symbolic re-enactment of events in Troy that led to the death of Paris. As a result of this tragic psychotherapy Helen realises that thanks to Aithra's potion she will always be living as an impostor. She and Menelaus take a draught of remembrance and embrace the reality of their former love, sealed by the appearance of her daughter Hermione.
Subjects
Recommended Recording
Links