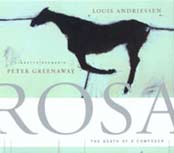 Photo: Nonesuch
Andriessen, Louis
ROSA The Death of a Composer
(1993-94)
Music theatre work
Duration: 100 minutes
Music Text
Libretto/scenario by Peter Greenaway (E)
Scoring
2S,2T,Bar,female jazz singer; chorus(2.2.2.2)
3(I,II=picc).4.2asax(I=ssax).tsax(=barsax,bcl).barsax(=tsax,bcl)-
4.4.3.1-perc(4):vib/glsp/2BD/wdbl/bongos/tom-t; marimba/high metal(loud &
sharp)/3cyms(1v.lg)/chimes/tam-t/2snare dr/tpl.bl/3 lg rasps (diff
sizes)/whip/wdbl/bongos/tom-t; xyl/gongs/tamb/wdbl/tom-t/bongos/drum-
set(+guiro, hi-hat); 3timp/tgl/rattle/big logdrum/wdbl/bongos/tom-t-2pft-
synth-2elec.gtr-mouth organ-strings(min4.4.2.2.2)
Abbreviations (PDF)
Publisher
Boosey & Hawkes
Territory
This work is available from Boosey & Hawkes for the world.
Availability
World Premiere
11/2/1994
Netherlands Opera, Amsterdam
Lyndon Terracini (Rosa)/Marie Angel (Esmeralda) Peter Greenaway, director
Conductor: Reinbert de Leeuw
Company: Netherlands Opera/Schoenberg & Asko Ensembles
Roles
| | |
| --- | --- |
| JUAN MANUEL DE ROSA | Baritone |
| THE FIRST SINGER/MADAME DE VRIES/THE TEXAN WHORE/THE INVESTIGATRIX | Soprano |
| THE SECOND SINGER/THE BLOND WOMAN/ESMERALDA | Soprano |
| ALCAN/LULLY (THE GIGOLOS)/THE COWBOYS | Tenor/Baritone |
| THE INDEX SINGER | Spoken role |
| CHORUS | SATB |
Time and Place
The opera house of a big city in the present; an abattoir in Fray Bentos, Uruguay, 1957.
Synopsis
The Investigatrix and her assistant, the Commentator, describe how the stage is set for an investigation into the murder of a composer, Rosa, set in an abattoir belonging to the family of his fiancée Esmeralda. The Commentator, obsessed with the sheets upon which the couple slept, increasingly assumes Esmeralda's persona, being undressed for the role by two gigolos. The sheets are hoisted to become movie projection screens – Rosa dreams of writing music for Westerns. He pays more attention to his black horse, kept prisoner in a treadmill, than to Esmeralda. She covers herself in black ink to rival the colour of the mare, which excites Rosa, but he is distracted by two cowboys riding onto the screen. He writes music for Westerns, with increasing financial success. The cowboys burst out of the screen and turn aggressive. Rosa tries to escape on horseback, but three shots are fired, killing the composer and his mare.





The Investigatrix takes charge of the investigation and the cowboy-gigolos turn out to be her assistants. They make Rosa and the distraught Esmeralda match the newspaper reports. The dead actor who has played Rosa is stripped and his steed is eviscerated. Esmeralda and the composer's money, both of which vanished after the murder, are stuffed together inside the animal. Rosa's corpse rides both the horse and his fiancée who have become as one. A shroud covers them as everlasting night descends upon the abattoir. Rosa and Esmeralda's family bury the composer – his death is not a co-incidence but the result of a conspiracy. His will stated that no-one else should ride his horse, and the animal is burnt with Esmeralda inside. The Investigatrix announces the available clues and, as the audience leaves the theatre, an Index Singer lists the opera's vocabulary and usage.
Press Quotes
"...a virtuoso achievement that synthesises all the strands of Andriessen's personality." The Guardian

"...it is clear from the maturity of the Rosa score that he has developed an idiom in which minimalism, a distinct sort of rhythmic Stravinskianism and mainstream modernism are blended with masterful, totally personal ease... it is triumphantly impossible to distinguish pop, jazz and classical styles..." Sunday Times
Subjects
Recommended Recording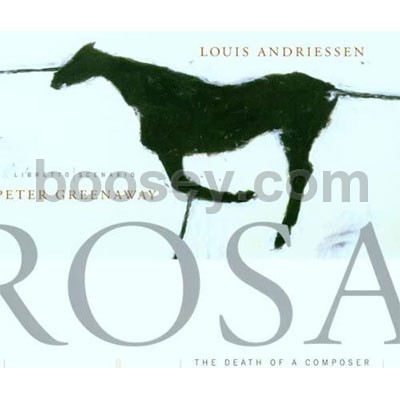 Lyndon Terracini/Miranda Van Kralingen/Marie Angel/Christopher Gillett/Roger Smeets/Phyllis Blanford/Schoenberg Ensemble/Asko Ensemble/Reinbert de Leeuw
Nonesuch 795592
Buy the digital recording from Amazon
Links