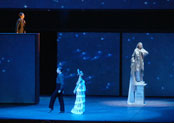 Photo: Daniel Fernández
Granada Festival 2011, Luis de Tavira dir.
Golijov, Osvaldo
Ainadamar (2003)
Duration: 80 minutes
One act opera
Libretto by David Henry Hwang
Scoring
voices: 2s.a.2t.2bar.b;women's chorus
orchestra: 3(I=picc; II=picc,afl; III=picc,afl).1(=corA).2(II=bcl).1(=dbn)-2.2.1.0-perc(3):glsp/vib/mar/t.bells; thundersheet/3tam-t/anvil/shaker; 3cajons/quinto/conga/palmas-2gtr-pft(=cel).computer-based sampler-harp-strings
TECH REQUIREMENTS: High quality sound reinforcement system in stereo (e.g. DV-DOSC), w/ stereo subwoofers and delays available; Console: Yamaha DM2000, PM1D or M7CL w/ 24 mic inputs (DM2000 is the preferred console); 8 Sennheiser SK50 transmitter w/ DPA 4066 Omni directional Headband Mic, Model 3532 receivers; 10 High quality cardioid small diaphragm condenser mics (e.g. Neumann KM-140); 1 AKG 414; 2 Shure SM 58; 1 Shure SM 57; 6 stage monitor wedges; 3 personal monitors w/ volume control (hot spot or anchor); Conductor video camera w/ monitor for offstage trumpets
This work requires additional technological components and/or amplification.
Abbreviations (PDF)
World Premiere
8/11/2003
Tanglewood, Lenox, MA
Dawn Upshaw, soprano / Kelley O'Connor, alto / Amanda Forsythe, soprano / Charles Blandy, tenor; flamenco cantaor / Shannon De Vine, baritone
Conductor: Chay Yew, director
Company: Vocal Fellows from the Tanglewood Music Center
Roles
| | |
| --- | --- |
| | |
| Margarita Xirgu (M.) | Soprano |
| Nuria (N.) | Soprano |
| Federico García Lorca (L.) | Alto* |
| Ruiz Alonso (R.) | Bass |
| Radio Falange | Bass-baritone (spoken part) |
| José Tripaldi (T.) | Tenor |
| Prisoner 1 (Torero) | Bass-baritone |
| Prisoner 2 (Maestro) | Tenor |
| Niñas (Female Choir): Niñas A (min. 6); Niñas B (min. 6); Niñas C (2 solas, Voces de la Fuente) | Female voices |
| | |
| *the role of Federico García Lorca may also be sung by a male voice, either High Tenor or Countertenor | |
Time and Place
Teatro Solís, Montevideo, Uruguay, April 1969 / Andalusia, Spain, Summer 1936
Synopsis
Emerging from darkness, the mythic world of Federico García Lorca comes into being. The sound of horses on the wind, the endless flow of the fountain of tears ("Ainadamar"), the trumpet call of wounded freedom, and the aspiration and determination that have been denied generation after generation echo across the hills.

First Image: Mariana

Teatro Solís, Montevideo, Uruguay, April 1969. The voices of little girls sing the opening ballad of Lorca's play Mariana Pineda. The actress Margarita Xirgu looks back across 40 years since she gave the premiere of this daring play by a brilliant young author. In the last minutes of her life, she tries to convey to her brilliant young student Nuria the fire, the passion, and the hope of her generation that gave birth to the Spanish Republic. She flashes back to her first meeting with Lorca in a bar in Madrid.

Lorca tells her that the freedom in his play is not only political freedom, and sings a rhapsodic aria that opens the world of imagination, a world inspired by the sight of the statue of Mariana Pineda that he saw as a child in Granada. Mariana was martyred in 1831 for sewing a revolutionary flag and refusing to reveal the names of the revolutionary leaders, including her lover. Her lover deserted her, and she wrote a serenely composed final letter to her children explaining her need to die with dignity.

Margarita reflects on the parallel fates of Mariana and Federico. The reverie is shattered by the call of Ramón Ruiz Alonso, the Falangist who arrested and executed Lorca in August 1936.

Second Image: Federico

The ballad of Mariana Pineda sounds again, taking Margarita back to the summer of 1936, the last time she saw Federico. The young Spanish Republic is under attack: the rising of the right wing generals has begun, there are daily strikes and massacres. Margarita's theatre company is embarking on a tour of Cuba. She begs Federico to come. He decides to go home to Granada instead, to work on new plays and poetry.

No one knows the details of Lorca's murder. Margarita has a vision of his final hour: the opportunist Ruiz Alonso arresting Lorca in Granada and leading him to the solitary place of execution, Ainadamar, the fountain of tears, together with a bullfighter and a teacher. The three of them are made to confess their sins. Then they are shot. 2137 people were murdered in Granada between 26 July 1936 and 1 March 1939. The death of Lorca was an early signal to the world.

Third Image: Margarita

For the third time we hear the ballad of Mariana Pineda. One more time the play is about to begin, the story retold for the generation of Margarita's Latin American students. Margarita knows she is dying. She cannot make her entrance, others must go on. As her heart gives way, she tells Nuria that an actor lives for a moment, that the individual voice is silenced, but that the hope of a people will not die. The Fascists have ruled Spain for more than 30 years. Franco has never permitted Margarita Xirgu, the image of freedom, to set foot on Spanish soil. Margarita has kept the plays of Lorca alive in Latin America while they were forbidden in Spain.

The spirit of Lorca enters the room. He takes Margarita's hand, and he takes Nuria's hand. Together they enter a blazing sunset of delirious, visionary transformation. Margarita dies, offering her life to Mariana Pineda's final lines: "I am freedom." Her courage, her clarity, and her humanity are passed on to Nuria, her students, and the generations that follow. She sings "I am the source, the fountain from which you drink." We drink deeply.

© Peter Sellars
Press Quotes
"[Ainadamar] is Golijov's masterpiece, destined to be among the great musical achievements of our time."
— Pierre Ruhe, Atlanta Journal-Constitution

"The melodies shiver with erotic intervals and scales; bittersweet half-steps weep with sun-drenched nostalgia and the soul of Spain. Arias of languid beauty are interrupted by exuberant outbursts of rhythm, orchestral color and violence. The inventive orchestration finds room for the improvisatory wail of an authentic flamenco singer, guitars and a heart-stopping passage of rhythmically layered gunshots.…this is an opera that deserves a place in the repertory—immediately."
— Mark Stryker, Detroit Free Press
Moods
Dramatic, Poetic, Tragic
Subjects
Contemporary, History, Literary, Relationships, Society
Recommended Recording