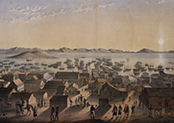 Photo:
Adams, John
Girls of the Golden West
(2017)
Opera
Duration: 160 minutes
Music Text
Libretto compiled from original sources by Peter Sellars (E)
Scoring
hS.S.M.3T.Bar. Male 4tet, Men's Chorus, dancer,
3(=picc).3(=corA).3(=Ebcl, bcl).3(=dbn)-4.3.3.1-perc(2)-pft-accordion-gtr-strings(12.9.7.7.5)
Sound Design as detailed by Mark Grey
Abbreviations (PDF)
Publisher
Boosey & Hawkes (Hendon Music)
Territory
This work is available from Boosey & Hawkes for the world.
World Premiere
11/21/2017
War Memorial Opera House, San Francisco, CA
Peter Sellars, director/librettist
Conductor: Grant Gershon
Company: San Francisco Opera
Roles
| | |
| --- | --- |
| Dame Shirley | Soprano |
| Joe Cannon | Baritone |
| Clarence King | Baritone |
| Ned Peters | Bass-Baritone |
| Josefa Segovia | Mezzo-soprano |
| Ah Sing | Coloratura Soprano |
| Ramón | Baritone |
| Lola Montez | Dancer |
Time and Place
Act I: Rich Bar, a mining camp on the Feather River in the Sierra Mountains; Act II: Downieville, California; early 1850s.
Synopsis
Act I
Scene 1: On the road to the Sierras.
Clarence evokes the "driving, vigorous, restless population" of young men who have come to the gold country: "the most gallant host that ever trooped down the startled solitudes of an unpeopled land."
Louise Clappe, who calls herself "Dame Shirley," on her way with her husband to Rich Bar, describes both the pleasures and annoyances of living in the crude conditions of Gold Rush California. She falls off her mule, gets up, brushes herself off and continues on, undaunted. She is always able to laugh at herself.
She transfers to "the most excruciating springless wagon that as ever my lot to be victimized in," and meets Ned, her driver and recently freed slave. Ned sings a song about being a wagoneer, fighting Indians, and other jobs he's held, but he also alludes to the many times he's been routinely cheated because he is a Negro.
Scene 2: Encounter with Indian women
Still on the way to Rich Bar, Shirley and Ned encounter a group of Indian women ("poor creatures, entirely naked save for a quantity of grass bound round the waist and covering the thighs.")
She is nonetheless entranced by one of them, a girl of sixteen, and describes her astonishing physical beauty and quiet demeanor, "those large, magnificently lustrous, yet soft eyes" and a smile of "mocking grace, infinitely bewitching."
Scene 3: Rich Bar, Plumas County in the Sierras
Dame Shirley arrives at Rich Bar, a mining encampment on the Feather River. Inside the Empire Hotel, Joe Cannon is in the bar room with Ah Sing, a Chinese prostitute. Joe, by way of a coarse ballad, tells of his love back in Missouri and how while he was off in California "seeing the elephant," he learned in a letter that his bride-to-be had given up on him, married a butcher, and had a baby. Ah Sing acknowledges she has fallen in love with her client, Joe.
Joe goes upstairs with Ah Sing to her room, makes furtive love, but then suddenly bolts, leaving her alone and despondent. "He has taken his pleasure. And thinks no more of me."
Dame Shirley muses on the absurdity of the frantic activity of gold mining. "I could never see any poetry, nor appreciate the humor, in making one's wrists ache, knocking to pieces gloomy looking stones."
Joe and Clarence, sloppy drunk, sing a duet, reprising the news of his betrothed having dumped him.
Scene 4: Late night at the Empire Hotel
The men sing a rowdy, high-energy song: "A gambler's life I do admire."
Josefa works the tables, expertly flirting with the men. Ramón while dealing at the gambling table, describes the realities of running a hotel and the need to always have a girl on hand: "She is there to attract the crowd. Without a girl there can be no hotel, without a beautiful one there can be no business." None of the miners is aware that he and Josefa are a couple.
The bar room clears out, leaving Ramón and Josefa alone. They sing a quiet duet recalling their first love encounter.
Dame Shirley wryly describes the primitive conditions of her tiny log cabin and how she nonetheless has managed to make it comfortable. "Everyone really ought to go to the mines to see how very little is needed to make oneself comfortable in this world."
Ah Sing tells how she was sold into prostitution at the age of ten for $20. Now she has grown older and wiser, "Everyone marvels at her beauty and her social graces; who dares to say she is just a prostitute by trade!" Joe confesses his love for her.
Scene 5: Coronation Dinner
Back at Dame Shirley's cabin, Ned has prepared a "Coronation Dinner" to celebrate her presence in the camp. To Ned she is "the queen." By the standards of Rich Bar, it's a lavish feast and he lists the menu, item by item.
Ned sings a quiet soliloquy about how he's learned to treat all creatures, both human and animal, with respect and kindness.
ACT II
Scene 1: The Raven himself
Downieville, California, Fourth of July
The Independence Day celebrations include an amateur performance of scenes from Shakespeare. Dame Shirley opens with Lady Macbeth's soliloquy, "The raven himself is hoarse at the fatal entrance of Duncan…" When she's done there is a stunned silence followed by a pistol shot and much shouting and crude laughter.
Ramón and Ned, watching from the side, comment on how the Fourth of July can be a bad day for anyone who isn't white. He describes how gangs of white miners ("Americans") are beating up the Hispanics and forcing them off their claims.
The Fourth of July entertainment continues. Ah Sing, coaxed up onto the stage, sings about coming to America from China in search of wealth and finding a rich husband. ("I am red hot under the Wealth Star.") The crowd throws firecrackers and vegetables at the stage. Joe gets up and joins her in song, defending her.
The unruly crowd of miners grows nasty and threatening, singing a refrain, "Get out Yellowskins, get out!" In an effort to distract them, Clarence introduces Lola Montez, who comes onstage to perform her famous "Spider Dance."
More debris is thrown at the stage. The audience turns violent again and sings another jingoist song ("Two hundred thousand Chinese are taking home the gold we ought to have.") Others propose hanging some Mexicans ("Here's hoping we catch some greasers!")
Scene 2: Pogrom
At midnight Ramón listens from a distance to the continued drunken revelry. Clarence appears, stumbling in a drunken stupor and, thinking he's alone, recites Macbeth's monologue, "Is this a dagger which I see before me…" The moment of brief, eerie tranquility abruptly ends when the mob bursts out onto the street. They've formed a "vigilance committee," and force several of the Mexicans to submit to having their heads shaved before being publicly whipped. It is Clarence who administers the whipping. He is cool, unflinching, indifferent to the pain he causes, even as his whip severs the ear of one of the victims.
Shirley is appalled by the sight of the whipping ("…nothing can efface from memory the disgust and horror of that moment…").
Ned appears and attempts to calm the mob with reason. He mounts the stage and reminds everyone of the meaning of Independence Day. His speech is impassioned, noting the irony of what "Independence Day" has meant to him, a former slave ("For it is not light that is needed, but fire; it is not the gentle shower, but thunder. We need the storm, the whirlwind, and the earthquake.")
Scene 4: The Stabbing
The mob, enraged by Ned, a black man giving such a speech, demand he be hanged, and only through the efforts of a few of his supporters is he able to escape. Dame Shirley is distraught with loss of her only real friend.
Later, around 3 AM, Josefa and Ramón are alone in the cabin they share on the outskirts of town. They sing of their love and the perilous situation of being "foreigners" in the town. Joe Cannon, drunk and lost in the dark, comes upon their cabin and pounds at the door, and when he sees Josefa, he launches an abusive, ridiculing song. Josefa, insulted and furious, confronts him. Joe tries to grab her, but she fights him off with terrifying force. The two grapple with each other until Josefa grabs a knife and stabs Joe in the chest, killing him.
Scene 5: The Hanging
By morning news has spread throughout Downieville and "the hungriest, craziest, wildest mob ever seen" has gathered around Josefa's cabin demanding vengeance for Joe's murder. Josefa appears, calm and dignified and neatly dressed, "well put up," as a newspaper account will later say. She is brought to the town center and given a hasty trial. ("No one dared to say a good word for her; no one was allowed to defend her.") She is condemned to death. Josefa says that she has no defence for killing Joe, but that she would surely do the same again if her were to attack her so.
The whole town eagerly watches the execution, which takes place on an improvised scaffold on the bridge over the Yuba River. As she is led to the scaffold the mob breaks out into a crude song, "Lousy Miner." At the last moment Josefa takes the noose, places it around her neck and jumps to her death. The crowd is suddenly overcome in stunned silence.
Epilogue:
Dame Shirley, on her last day at Rich Bar, surveys her surroundings, with its strange mixture of ugliness and beauty: the detritus of mining, the drunken men and their litter, and the sublime natural world behind it all: "the river…and these majestic, old mountains looking lovelier than ever, while, like an immense concave of pure sapphire, without spot or speck, the wonderful and never-enough-to-be-talked-about sky of California drops down upon the whole its fathomless splendor."
Press Quotes
"There should be no doubt that Girls of the Golden West is the most powerful opera of the moment."
Los Angeles Times
"Girls is an outright rejection of the romantic West of Puccini, of the hubris of Manifest Destiny, of all the rosy myths you've heard about the Golden State. It is revisionist – or, rather, corrective – American history, a tale of men turning feral as they swarmed California like an invasive species. In many ways, it is also an opera about the present."
New York Times
Subjects