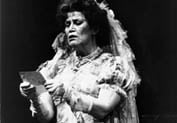 Photo: Courtesy The Minnesota Opera
World Premiere, The Minnesota Opera, May 1st, 1981. Philip Brunelle, Conductor. Miss Havisham: Rita Shane.
Argento, Dominick
Miss Havisham's Wedding Night (1979)
Duration: 30 minutes
Opera monodrama in one act
Libretto by John Olon-Scrymgeour, based on the character from 'Great Expectations' by Charles Dickens (E)
Scoring
colS,2mimes
1.1.1.1-1.1.0.1-timp.perc(1):t.bells/tam-t/tpl.bl/tamb/SD/BD/tgl/
cyms/susp.cyms/glsp/wdbl/wind chimes-harp-organ-pft(=cel)-
strings (1.1.1.1.1)
Abbreviations (PDF)
World Premiere
5/1/1981
Tyrone Guthrie Theater, Minneapolis, Minnesota
H. Wesley Balk, director
Conductor: Philip Brunelle
Company: Minnesota Opera
Roles
| | |
| --- | --- |
| AURELIA HAVISHAM, an elderly recluse | Soprano |
| Estella, a beautiful young girl | silent role |
| A Chambermaid | silent role |
Time and Place
19th century, Satis House, Essex, England
Synopsis
This monodrama - a musical soliloquy by Dickens' character Miss Havisham - is set in a room left long untouched, on a night in which Miss Havisham re-enacts all that happened to her when she was left by her lover on their wedding day fifty years before. On the morning of her wedding day, Miss Havisham was dressing for the ceremony when a note arrived from the groom-to-be, jilting her; she smashed the clocks, blocked out the light and vowed never to leave her rooms or remove her bridal attire, complete except for the one shoe still lacking when the note was delivered.  Miss Havisham, many years later, spends her time reliving the disastrous day of her intended wedding, something she has obviously been doing for a very long time. She imagines a visit from her fiancé and wonders about what her life would have been like had her relationship turned out differently. She is interrupted by the chambermaid bringing her morning tea and as the curtain falls, Miss Havisham prepares to tell the young Estella all about men.
Subjects
Literary, Society
Recommended Recording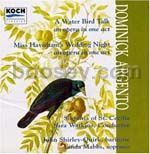 Linda Mabbs, Sinfonia of St Cecilia, Sara Watkins
Koch International Classics 7388