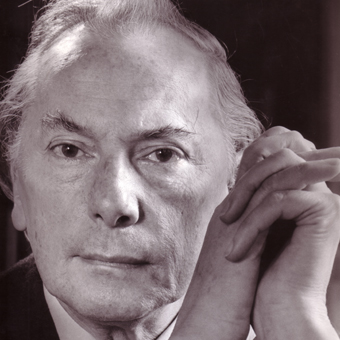 Andrzej Panufnik
b. 24 September 1914, Warsaw
d. 27 October 1991, Twickenham, London
Andrzej Panufnik urodzil sie w Warszawie, w rodzinie o muzycznych tradycjach – matka kompozytora byla skrzypaczka, ojciec - cenionym lutnikiem. Jeszcze przed wybuchem wojny odebral staranne wyksztalcenie muzyczne, studiujac w warszawskim Konserwatorium Muzycznym kompozycje (K. Sikorski) i dyrygenture (W. Bierdiajew). Studia dyrygenckie poglebial w Wiedniu u Felixa von Weingartnera oraz w Paryzu u Philippe'a Gauberta. W latach trzydziestych powstaly pierwsze kompozycje Panufnika, z ktorych obecnie znane jest Trio fortepianowe (1934), zrekonstruowane przez kompozytora po wojnie (wszystkie jego utwory napisane przed 1944 rokiem splonely podczas Powstania Warszawskiego). Lata okupacji spedzil w Warszawie, biorac udzial w owczesnym zyciu koncertowym, m.in. wystepowal w duecie fortepianowym z Witoldem Lutoslawskim, grajac w kawiarniach artystycznych. W walke z okupantem wlaczyl sie, piszac - podobnie jak inni kompozytorzy w tym czasie (Lutoslawski, Ekier) - Piesni walki podziemnej, w tym popularne do dzisiaj Warszawskie dzieci.
Pod koniec lat czterdziestych Andrzej Panufnik wysunal sie na czolo najbardziej awangardowych polskich kompozytorów, a jego utwory - Kolysanka na 29 instrumentow smyczkowych i 2 harfy czy Nokturn na orkiestre - sa swiadectwem najwczesniejszych w tym czasie w Polsce poszukiwan sonorystycznych. Zyskal wowczas pozycje czolowego kompozytora i dyrygenta Polski Ludowej, otrzymujac kilka nagrod panstwowych i kompozytorskich - m.in. za Nokturn (1947), Sinfonia rustica (1948) i Uwerture bohaterska (1951). Mimo tych zaszczytow – czujac sie coraz bardziej ograniczany w swej kompozytorskiej i obywatelskiej wolnosci - zdecydowal sie na nielegalne opuszczenie komunistycznej Polski i w 1954 roku wyjechal do Anglii. Od tego czasu az do 1977 roku w Polsce obowiazywal polityczny zakaz wykonywania jego utworow, a nawet wymieniania jego nazwiska w prasie.
Po osiedleniu sie w Wielkiej Brytanii Andrzej Panufnik przyjal posade dyrektora muzycznego City of Birmingham Symphony Orchestra (1957-59), aby po 1959 roku poswiecic sie wylacznie komponowaniu. Od roku 1963, kiedy to napisana przez niego na zamowienie Fundacji Kosciuszkowskiej Sinfonia Sacra (poswiecona Millennium Polski, a wykorzystujaca w swej warstwie muzycznej melodie Bogurodzicy) zdobyla pierwsza nagrode na Konkursie Ksiecia Rainiera w Monaco, Panufnik stopniowo zdobywal coraz wieksze uznanie w brytyjskim i miedzynarodowym swiecie muzycznym. Wiekszosc jego utworow powstala na zamowienie wybitnych osob i instytucji w Anglii i USA, m.in.: Triangles (zam. Telewizji BBC), Sinfonia votiva (zam. Boston Symphony Orchestra), X Symfonia (zam. Chicago Symphony Orchestra), Arbor cosmica (zam. Fundacji Kusewickich), Koncert skrzypcowy (zam. Y. Menuhina), Koncert wiolonczelowy (zam. M. Rostropowicza) i inne. Utwory kompozytora wykonywali i nagrywali artysci o swiatowej slawie, jak Leopold Stokowski, Seiji Ozawa, Georg Solti, Yehudi Menuhin, John Ogdon, czy London Symphony Orchestra (z ktora kompozytor wspolpracowal przez ponad dwadziescia lat). Za zaslugi dla kultury brytyjskiej zostal przez krolowa angielska Elzbiete II uhonorowany tytulem szlacheckim "Sir" (1stycznia 1991). Zmarl w Twickenham pod Londynem, gdzie mieszkal od 1963 roku wraz z zona Camilla Jessel i dwojgiem dzieci – corka Roxanna (ur. 1968) i synem Jeremy'm (ur. 1969). Przez Rzad Polski zostal posmiertnie odznaczony orderem Polonia Restituta.
W dorobku kompozytorskim Andrzeja Panufnika zdecydowanie przewaza symfonika. Jest on autorem 10 symfonii, dwoch uwertur (Tragicznej i Bohaterskiej), utworow na orkiestre symfoniczna i kameralna (Landscape, Muzyka jesieni, Concerto festivo, Arbor cosmica i inne) oraz 4 koncertow solowych - fortepianowego, skrzypcowego, fagotowego i wiolonczelowego. Ponadto katalog dziel kompozytora obejmuje utwory na fortepian solo, na zespoly kameralne (w tym 3 kwartety smyczkowe), a takze kompozycje wokalno-instrumentalne (m.in. kantata Universal Prayer).
© Beata Boleslawska
This biography can be reproduced free of charge in concert programmes with the following credit: Reprinted by kind permission of Boosey & Hawkes