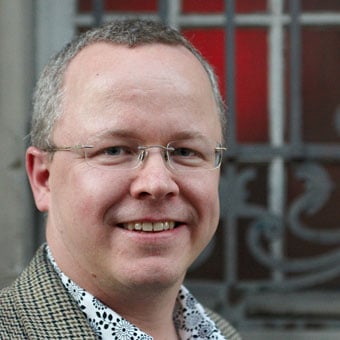 David Horne
b. 12 December 1970, Stirling
David Horne is widely regarded as one of the most talented Scottish musicians of his generation. When still a teenager he established his name both as a pianist, making his BBC Proms concerto debut in 1990, and as a composer, with a prize-winning work at the Huddersfield Contemporary Music Festival. His composition studies took him to the USA, first at the Curtis Institute in Philadelphia and then at Harvard University, and he has since returned to the UK and is based in Manchester.
Horne's music can be viewed both as a response, and as a reaction, to modernism. His language has evolved naturally from the classically-orientatated modernist masters, exploring essentially abstract musical ideas. Yet Horne deploys these with an attractive lyricism, an impressionistic ear for instrumentation, and with invigorating energy. Such communicative qualities have drawn leading virtuoso performers on both sides of the Atlantic to premiere his works, including violist Nobuko Imai (Stilled Voices), percussionist Evelyn Glennie (Reaching Out and Ignition) and pianist Boris Berezovsky (Liszt).
David Horne's ensemble scores such as Out of the Air and the Concerto for Six Players have been performed internationally by the London Sinfonietta, the Birmingham Contemporary Music Group, the California EAR Unit, the Ensemble für neue Musik Zürich, the Tokyo Sinfonietta and the Chamber Music Society of Lincoln Center. His chamber works include four string quartets, composed for the Mendelssohn, Yggdrasil and Brentano Quartets.
His large-scale output includes a Piano Concerto premiered in 1993, two chamber operas Jason Field and Travellers, the music theatre work Beyond the Blue Horizon, and the full-length opera Friend of the People, premiered by Scottish Opera in 1999. As Composer in Association with the Royal Liverpool Philharmonic Orchestra (2000-04) he created a series of orchestral and ensemble works, including The Year's Midnight for soloists, chorus and orchestra, the percussion concerto, Ignition, premiered by Evelyn Glennie, and a Concerto for Orchestra.
In 2003 Horne created Disintegrations, consisting of three arrangements of electronica music by Warp artists, which was premiered by the London Sinfonietta at the Ether Festival in London and toured internationally. In 2005 the Nash Ensemble performed Splintered Instruments at the Wigmore Hall and the BBC Proms, and in 2007 premiered the DH Lawrence song-cycle Life's Splinters with tenor James Gilcrhist. The BBC Symphony Orchestra presented a Horne focus concert in 2007. The Remix Ensemble premiered Restless Feeling in 2008 at the Casa da Música in Porto and toured the work to the Berlin Festival and Musica in Strasbourg.
Recent works include Daedalus in Flight for orchestra, premiered by the BBC Philharmonic in the New Music North West festival in Manchester in October 2013, and performed at the BBC Proms under the baton of Juanjo Mena in 2014.
David Horne is published by Boosey & Hawkes.
May 2015
This biography can be reproduced free of charge in concert programmes with the following credit: Reprinted by kind permission of Boosey & Hawkes