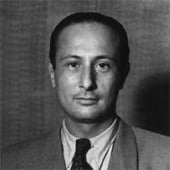 Wladyslaw Szpilman
b. 5 December 1911, Sosnowiec, Poland
d. 6 July 2000, Warsaw
The "Palme d'Or" , three "Oscars" and various European film prizes were among the awards collected by "The Pianist", Roman Polanski's film based upon Wladyslaw Szpilman's memoirs, dealing with his "miraculous survival" (as he called it) in Warsaw during the German occupation and final destruction between 1938 and 1945. But there is more to Szpilman than being "The Pianist". He is increasingly being noticed as a composer, both of concert works and of music in a lighter vein.

Wladyslaw Szpilman was born in the Polish town of Sosnowiec on 5 December 1911. After first piano lessons he continued his musical studies in Berlin with Leonid Kreutzer, Arthur Schnabel (piano) and Franz Schreker (composition). A Pole of Jewish descent, he returned to Warsaw after Hitler's seizure of power and soon won himself renown as a pianist and composer. From 1935 he worked for the Polish Broadcasting Company until his career came to an abrupt end in September 1939 when German troops invaded Pola nd.

After the end of war, Szpilman returned to the Polish Broadcasting Company where he directed the music department until 1963. He was also the chamber music partner of first-rate violinists, such as Henryk Szeryng and Bronislaw Gimpel, with whom he founded the Warsaw Piano Quintet. Szpilman performed as a concert pianist and chamber musician in Poland, as well as throughout Europe, Asia and America.

From his early Berlin years Szpilman never gave up the will to write music, even when living in the Warsaw Ghetto. His compositions include orchestral works, concertos, piano pieces, but also lots of music for radio plays and films, as well as around 500 songs, many of which still are popular in Poland today. His works are now published for the first time in printed editions by Boosey & Hawkes· Bote & Bock.

Wladyslaw Szpilman died on 6 July 2000 in Warsaw.
This biography can be reproduced free of charge in concert programmes with the following credit: Reprinted by kind permission of Boosey & Hawkes