Double concerto for two violins and string orchestra (divisi)
Duration: 14'
Scoring
Strings (minimum 2.2.2.2.1)*
*Divisi - Multiples of each part are best in even numbers, however, if the
number of strings for a section is uneven, allocate more strings to the lower pitch.
Abbreviations (PDF)
Publisher
Boosey & Hawkes
Territory
This work is available from Boosey & Hawkes for the world.
Availability
World Premiere
11/3/2012
Germantown Performing Arts Center, Germantown, TN
Jennifer Koh, violin / Jaime Laredo, violin / IRIS Orchestra / Michael Stern
Composer's Notes
When writing Prince of Clouds I was contemplating the presence of musical lineage—a family-tree of sorts that passes from generation to generation. This transfer of knowledge and inspiration between generations is a beautiful gift. Composed specifically for Jennifer Koh and her mentor at the Curtis Institute of Music, Jaime Laredo, this thread was in the foreground of my imagination as a dialogue between the soloists and ensemble. As a composer, working with such virtuosic, passionate and unique musicians is also another branch of this musical chain.

Prince of Clouds was co-commissioned by the Chicago Symphony Orchestra, IRIS Orchestra, Los Angeles Chamber Orchestra and the Curtis Institute of Music. It will be premiered in November 2012 at the Germantown Performing Arts Center, TN with conductor Michael Stern, and subsequent performances at Orchestra Hall at Symphony Center, IL with conductor Harry Bicket; Royce Hall, Los Angeles with conductor Jeffrey Kahane; and the New York Premiere at Miller Theater.

Prince of Clouds was composed at the Hermitage Artist Retreat in Summer 2012.

— Anna Clyne

Reproduction Rights:
This program note may be reproduced free of charge in concert programs with a credit to the composer.
Press Quotes
Prince of Clouds was nominated for a GRAMMY Award in the "Best Contemporary Classical Composition" category.


"ravishing…"
— New York Times

" ... It's the first concerto she's ever composed, and it's a winner ... This is music one can listen to again and again and find new things to appreciate each time."
— Chicago Tribune

"Prince of Clouds is wrought with Clyne's characteristic craft and care, and offers the composer's brand of reflective introspection that is consistently attractive."
— Chicago Classical Review
Subjects
Recommended Recording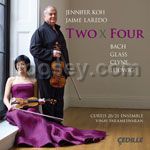 News stories for this title:
Links