Bernstein's A Quiet Place acclaimed at Paris Opéra
(April 2022)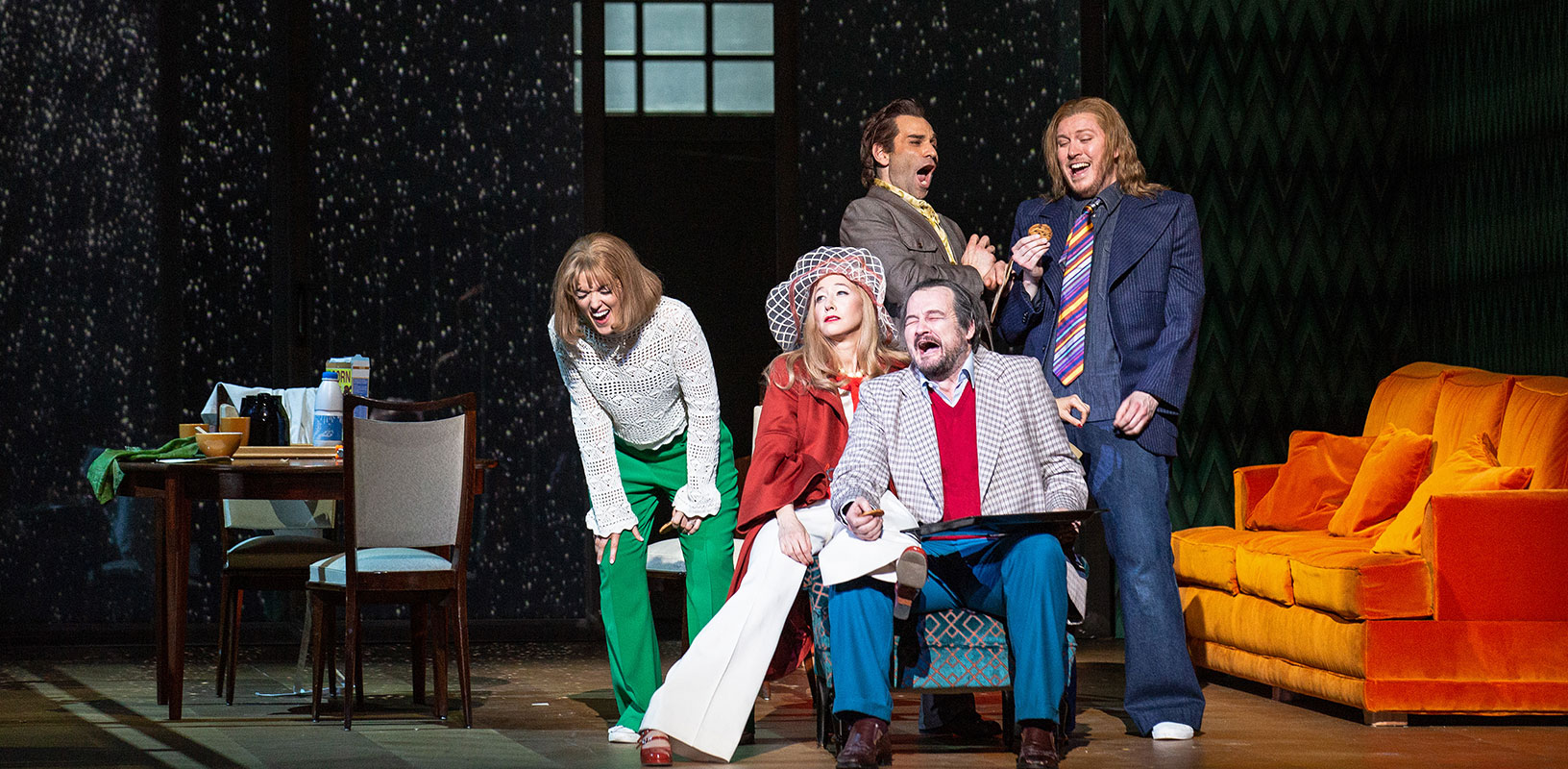 With its new staging in Paris by Krzysztof Warlikowski, conducted by Kent Nagano, Leonard Bernstein's A Quiet Place received an accomplished French premiere in March.
Leonard Bernstein's final stagework, A Quiet Place, created with librettist Stephen Wadsworth and premiered in 1983, received a successful French premiere on 9 March at the Palais Garnier in Paris. The new Opéra National de Paris production by Polish director Krzysztof Warlikowski employed the 2013 adaptation by Garth Edwin Sunderland in a new expanded orchestration. Kent Nagano conducted the staging, following his performances of the adaptation in Germany and Canada and his recording for Decca with Montreal forces.
The new version and probing staging both focused attention on the psychologically fragile family at the drama's centre, trapped in its painful memories as it gathers after the death of a loved one, trying to recapture shared moments of intimacy and reaching for the hope of reconciliation. The cast for the 11 performances in Paris included Russell Braun as the recently bereaved Sam, Patricia Petibon and Gordon Bintner as his estranged adult children Dede and Junior, and Frédéric Antoun as François, Dede's husband and Junior's lover.
"What remained for France was to stage for the first time the only one of his works to break with the canons of the musical comedy to embrace the style of the Straussian "conversation in music". Under the baton of Kent Nagano, directed by Krzysztof Warlikowski, the French premiere of Leonard Bernstein's last opera is a resounding success."
Liberation
"This new version is undoubtedly a point of balance and achievement for one of Bernstein's most personal works, which draws on the sulphurous sources of the polytonal Stravinsky of The Rake's Progress, the fanfares of Aaron Copland or Britten's Peter Grimes, without forgetting the Mahlerian effusion, with jazzy elements intervening in the particularly corrosive passages."
Le Monde
"A Quiet Place belongs to the composer's last period, much more austere and learned than the musicals, ballets and film scores of the 1950s that made the charismatic Lenny famous… For its entry into the Paris Opéra repertoire, the work of the American composer was able to count on a remarkable artistic team in unison."
Le Figaro
"A Quiet Place has come of age, thirty-nine years later. In 1983 much of its subject matter was sensitive, even taboo. As well it dwelt on naked emotional histories that were foreign to public forums… In A Quiet Place Bernstein synthesizes the musical palate we share with Europe into a homogenous language that takes on the American openness, its guile and naïveté, and its brilliance. A Quiet Place's first act challenges Verdi's Falstaff in its wit, and Wagner's Meistersinger in its choral complexities. The Bernstein opera's intense interludes recall those of Debussy and Berg, our ears now adept at counting twelve tones without fear while accepting the Tchaikovsky's emotional urgencies with equanimity."
Opera Today
"In the conductor Kent Nagano, the production has the world's finest champion of A Quiet Place, who several years ago recorded Sunderland's version and again leads it to brilliant and illuminating effect. And in the director Krzysztof Warlikowski, it has one of the European stage's smartest interpreters of family dysfunction and sexual complexity, the opera's central themes… In Warlikowski's staging, Bernstein's uneasy final chords accompany an image of Dinah's family sharing a sofa. The only way forward for them is forgiveness… They are still suffering, in a cycle you could see continuing to the present day. The distinctly American darkness of A Quiet Place may be more relevant than we'd like to think… in its current form, it is also a piece of subtlety and suggestion, a short story with the weight of a novel, an example of masterly craft and postmodern style."
New York Times
> Further information on Work: A Quiet Place - 2013 Adaptation (Full Orchestra Version)
Photo: Bernd Uhlig, Opéra national de Paris

Boosey & Hawkes Composer News