Composer Jack Gottlieb celebrates his 80th Birthday
(October 2010)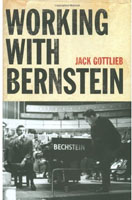 Jack Gottlieb releases memoir Working With Bernstein in conjunction with 80th Birthday Celebration
October celebrates the 80th birthday of composer and Bernstein scholar Jack Gottlieb. As Leonard Bernstein's assistant at the New York Philharmonic from 1958 to 1966, Gottlieb is not only our closest living link to the composer's legacy, but is also an esteemed composer in his own right, with works for the concert hall, the theater, and the synagogue. His works have been performed by the Boston Symphony, New York Philharmonic, Detroit Symphony, and the Vienna Philharmonic, among others. In addition, Gottlieb has often been honored for his contributions to the canon of Jewish liturgical music.

Still active as both an historian and a composer, Jack Gottlieb has been named Leonard Bernstein Historian-in-Residence at the New York Philharmonic for the 2010-2011 season. Additionally, Amadeus Press , an imprint of Hal Leonard Performing Arts Publishing Group, recently published Working with Bernstein, Gottlieb's two-part memoir that offers fresh and insightful information about the everyday life of the maestro, combining his own firsthand reminiscences with anecdotes, humor, and stories by others in Bernstein's inner circle. The book also compiles all of Gottlieb's commentaries and notes on Bernstein's work from 1961 through the last recordings, and thus provides an invaluable resource for Bernstein scholars and enthusiasts everywhere. On December 11th, 2010 Gottlieb will discuss the memoir at the Library of Congress' Coolidge Theatre, followed by a concert of his own music. More information can be found on the Library of Congress website.  

In conjunction with the publication of Working with Bernstein, the Leonard Bernstein Publishing Company, alongside Boosey & Hawkes, announces a new choral publication, A Choral Quilt, which weaves together six of Bernstein's compositions, from Peter Pan to West Side Story to the Mass.

To purchase Working with Bernstein, click here. 
To purchase A Choral Quilt, please visit the Boosey & Hawkes website. 
For a complete list of Gottlieb's works, visit his website.

Boosey & Hawkes Composer News