Elliott Carter Remembered
(June 2013)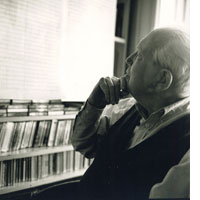 A new site brings all things Elliott to the web
Developed by the Amphion Foundation, ElliottCarter.com, the legendary composer's new website, hosts a performance schedule, dozens of tributes, and other information about the famed composer. After his passing, written remembrances started pouring in from some of Carter's most beloved friends and colleagues. Artists such as John Adams, Pierre-Laurent Aimard, Daniel Barenboim, Oliver Knussen, David Robertson, and Ned Rorem, among many others, have remembered him with beautiful anecdotes and reflections on his influence. Carter's circle warranted its own community, bringing together artists from around the world to an artistic hub that still exists today—a testament to his magnetic personality.
The launch of ElliottCarter.com coincided with a tribute concert in May that mixed performance with speeches given by some of Carter's family, friends, and colleagues including his son David Carter, cellist Fred Sherry, pianist Ursula Oppens, Boosey & Hawkes Managing Director Janis Susskind, and clarinetist (and Carter's longtime personal assistant) Virgil Blackwell. A video tribute was also provided by Frank Scheffer and Murray Lerner.
This summer, the world premiere of Carter's final work Epigrams will be given at the Aldeburgh Festival in June with Pierre-Laurent Aimard at the keyboard. In August, he will give the US premiere of Epigrams at the Tanglewood Festival of Contemporary Music, a five-day gathering that will feature six Carter works including his String Quartet No. 1, Instances (East Coast premiere), Retrouvailles, Tri-Tribute, and 90 +.
Photo: Meredith Heuer

Boosey & Hawkes Composer News