MAGNETAR: Chapela's New Electric Cello Concerto
(October 2011)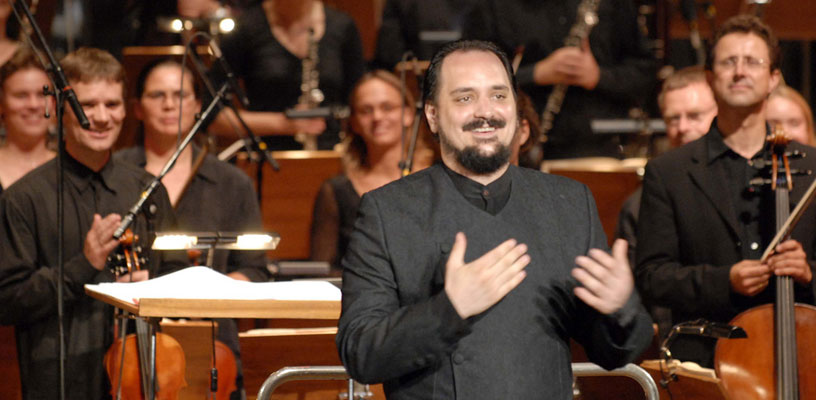 Premiere Performances by Los Angeles Philharmonic with Johannes Moser in Los Angeles and San Francisco
The inspiration for Enrico Chapela's new concerto for electric cello and orchestra, MAGNETAR (2010), comes from an out-of-this-world destination. A type of neutron star, a magnetar is the most magnetic object yet detected in the universe. Cellist Johannes Moser will tackle the challenge, performing the work's world premiere in Los Angeles (October 20 and 21) and San Francisco (October 23) with the Los Angeles Philharmonic and Music Director Gustavo Dudamel. MAGNETAR is co-commissioned by organizations on three continents: the Los Angeles Philharmonic, the City of Birmingham Symphony Orchestra, and the São Paulo Symphony Orchestra.

MAGNETAR falls in line with other recent science-related compositions by the Mexican composer, including Nanobots (2010), based on the microscopic machines referenced by its title, and Private Alleles (2010), which takes inspiration from the Mexican Genome Diversity Project. As the electric cello produces sound via electromagnetism, Chapela decided to base this new concerto for the instrument on the largest magnet possible: a magnetar. He translated data collected from three magnetars into pitch sets, removed two strings from his guitar and tuned it as a cello, and riffed on these pitch sets to create the work's solo line. The electric cello part combines sounds from an effects patcher, including delay, granulation, and spectral freeze, to create its otherworldly sonic creations. Following an opening movement that features a cadenza that represents a magnetar's "quiet and peaceful times" and a second movement that "falls into a cool jam," the third movement, entitled Brutal "bursts from nowhere into a fully distorted e-cello that leads into a brutal riff, that gradually builds up to the giant final flare," according to the composer.

Also this October in California is the Berkeley Symphony performance of Chapela's Li Po (2008-09), which, like MAGNETAR, also employs extra-acoustic effects. The work is based on the eponymous poem by José Juan Tablada, also of Chapela's native Mexico, which was in turn inspired by the life of Chinese poet Li Po. Following its premiere by the Los Angeles Philharmonic in 2009, it received acclaim from The New Yorker: "Chapela's Li Po makes virtuosic use of unconventional instrumental sounds—multiphonics, bowed percussion, glissandi everywhere—and envelops them in voluptuous electronic textures. Yet the work is more than an onslaught of effects: tendrils of melody curl around the ear, harmonic colors glow eerily bright, rhythms have a folkish, danceable thrust." Conductor Joana Carneiro leads the work on October 27.

Enrico Chapela, a 2010–2011 John Simon Guggenheim Memorial Foundation Fellow, studied at the Centro de Investigación y Estudios de la Música in Mexico City, obtaining degrees in guitar performing and compositional techniques, as well as the University of Paris Saint-Denis, completing a Master's in electro-acoustic music and PhD studies in Musicology. A number of his pieces have been selected as "Recommended Works" for UNESCO's International Rostrum of Composers, including ínguesu (2003). Chapela has been commissioned to compose music for the Los Angeles Philharmonic, Berkeley Symphony Orchestra, Bravo! Vail Music Festival, New Paths in Music Festival, Cuarteto Latinoamericano, ONIX ensemble, Lab 33 project, NYYD ensemble, University of Cincinnati's CCM Symphony Orchestra, and the Dresden Sinfoniker.

> To view the full score to MAGNETAR, click here.
> For more information and tickets to the world premiere performances of MAGNETAR, click here: Los Angeles | San Francisco.
> For more information and tickets to see Li Po with the Berkeley Symphony, click here.
Photo credit: Bernd Uhlig

Boosey & Hawkes Composer News