Performer Picks: Miguel Harth-Bedoya Discusses His Favorite Boosey Works
(January 2021)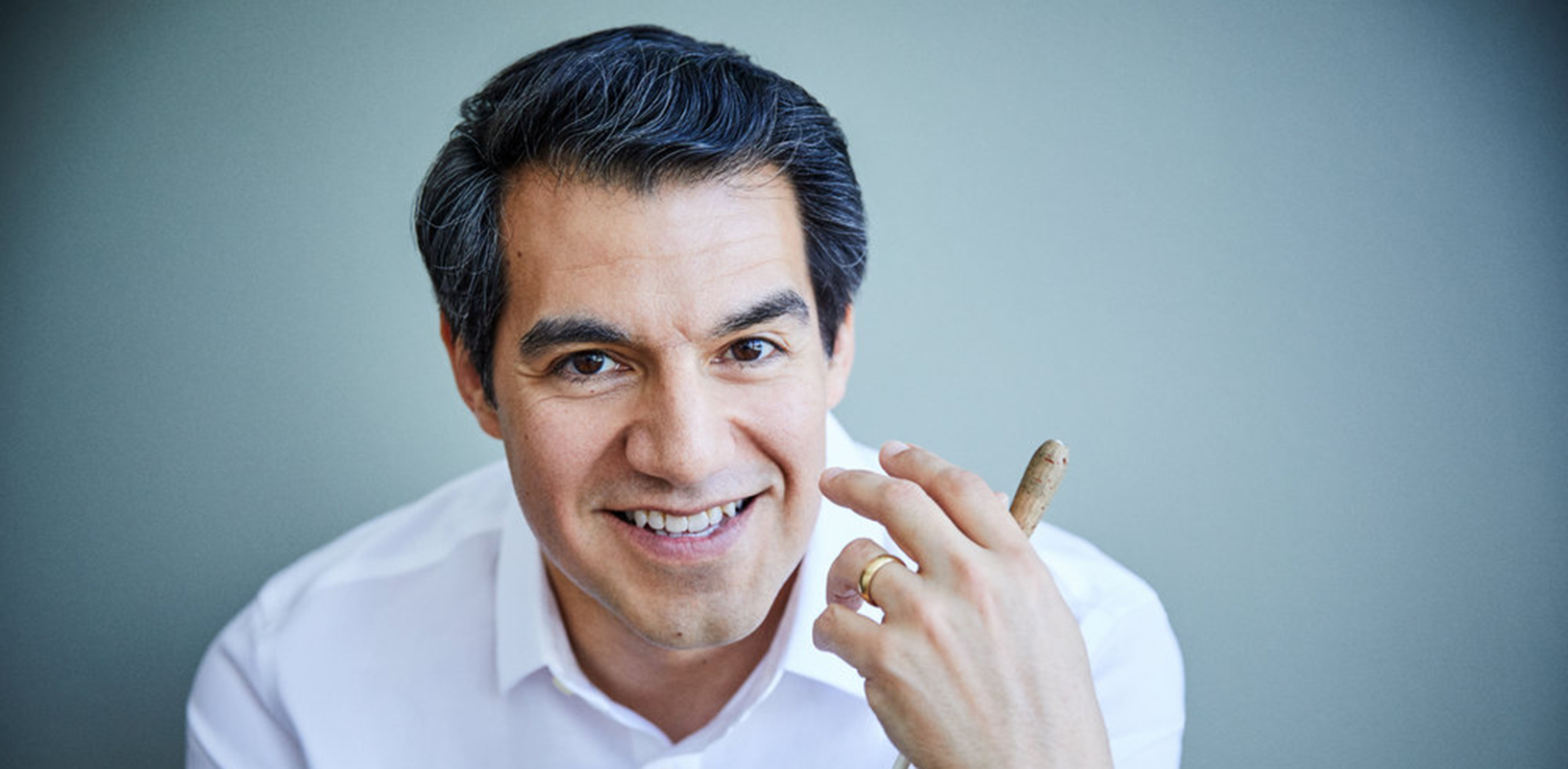 Whether unveiling contemporary works or re-discovering a classic, internationally renowned conductor Miguel Harth-Bedoya always makes a connection with the composers whose music he takes on. An adventurous programmer and tastemaker, Harth-Bedoya spoke with us about some of his favorite pieces by Boosey composers who have become staples in his repertoire: Anna Clyne, Osvaldo Golijov, and Aaron Copland.
> Listen to Harth-Bedoya's "Performer Picks" playlist on Spotify.
> Watch a video excerpt of our interview, in which Harth-Bedoya discusses his evolving relationship with Copland.
Miguel Harth-Bedoya directs The Conducting Institute, a workshop where students of all levels learn the art of orchestral conducting and develop their musicianship, conductinginstitute.com. Learn more about the conductor and his upcoming projects on his website miguelharth-bedoya.com.
1. Anna Clyne
To me, a composer should be a person first. When I met and spoke to Anna, I knew the music was going to be special. She came to Milwaukee where I was conducting and we had dinner after her concert, and it was just one of those immediate moments of, "Wow, I really want to know your music." When I came to Fort Worth Symphony, I had Anna as one of our visiting composers, and the piece that I chose to introduce her was <<rewind<<, which I find fascinating—that's how I really got to know her music.
That relationship led us to bring RIFT to the Kennedy Center for the SHIFT Festival. It's a piece that integrates the human body, motion, with music—I would marvel that somebody could see such integration of art forms into one. It came across so amazingly both in Fort Worth and in Washington, DC; it's too bad that I couldn't see it fully because I was in the middle of it, but I could sense when there was dead silence or gasps from the audience.
The score for RIFT also reminded me that less is more. It's not a simple score, but some young composers need the whole palette—instrumentation, dynamics, all of it. But try cooking with three ingredients and making a piece of art. That, I would say, is the most powerful thing, and it shows her maturity as a composer.
2. Osvaldo Golijov
Last Round for string orchestra
I literally met Osvaldo on my first day in the US, at the Curtis Institute of Music—he was finishing his doctorate degree at UPenn, but he liked coming to observe the conducting class (there was a collaboration at Curtis with the composers at UPenn). So while in school I premiered the second part of Last Round, which is a tribute to Astor Piazzolla. A while later I called him up and asked, "What would you think of doing Last Round [originally for string nonet] in a full string orchestra version?" And he said, "Why not?"
He kept the idea of having performers standing left and right onstage, as in the nonet version, with the two sets of strings on each side and basses in the middle. It looks like a tango ballroom, and the motion of the players in performance shows that give and take and partnering of tango.
Three Songs for Soprano and Orchestra
After Curtis, Osvaldo was among my group of "friend composers." For my debut with the Boston Symphony we were discussing doing something with Osvaldo and they suggested Three Songs for Soprano and Orchestra. I actually had not heard it, but I was excited about his process of composing these songs and their different backgrounds.
Now, it's an orchestral piece, but not a traditional orchestral piece. You've got the marimbas and the celesta, and the texts are in different languages: Yiddish, Galician, and English. To me it's still a marvel that he managed to create three songs that work individually and as a whole as well. I think this defines who Osvaldo is. He has always been a genius in bringing together all these different elements and influences, and now it's a piece of music.
Mariel for solo cello and orchestra
For a piece like Mariel, you need to know the context before you hear it. The piece is a frozen moment in time before Mariel, a friend of Osvaldo's, passed away in a car accident. Can you imagine writing 15 minutes of music that is only about one last memory? It's chilling. It's really powerful on every level.
After he composed the original version of Mariel, Osvaldo said to me, "I wrote Mariel for just cello and marimba, and it's the essence of something," and I agreed. The material from that version became the seed of something else: a piece for cello and orchestra. Now the orchestral version has been done with the Chicago Symphony, Boston Symphony, Baltimore, and Seattle, and with many cellists. With this larger version you're bringing the composer to so many more people, and opening avenues so that the music keeps on reaching out, and I wanted that for Mariel.
3. Aaron Copland
When I came to the States, I didn't know Copland at all. Then, when I went to Curtis, Copland of course immediately comes into the picture. You can't think about American music and not think about Copland. So immediately that was part of the repertoire for me to learn and it was completely foreign to me. Appalachian Spring sounded so strange. "Simple Gifts"—what do you mean? I didn't get it. I had no clue whatsoever, but I did my work. I spent time on the music and I learned it.
Later, I was able to participate in the Copland centennial in both LA and New York in 1999. I was asked to conduct the New York Philharmonic performing—guess what—Appalachian Spring, both the 13-instrument version and the orchestral version. Usually when the music director is not there, the principals rotate out and that's the time they get off, which is totally fine. Except that Stanley Drucker, clarinet, was the only principal there. The clarinet solos in Appalachian Spring are some of the most famous for that instrument, and Drucker has recorded it with Bernstein, Copland, Zubin Mehta, everybody.
During the break, I went to say hello and to thank him for staying to play this piece. He said, "Young man, why do you think I play the clarinet? To not come to work? Oh no, no." And when I mentioned the other conductors he'd played the piece with, he said, "Yes, and I expect you to do something interesting, too." I was so humbled by that, and it gave me even more of a push to give more. So that was how my relationship with the piece evolved—from my first year of school, not having a clue about this music, to conducting it during the centennial with the New York Philharmonic. And that piece is now part of me.
To me, the Clarinet Concerto is like a big band made of strings. That may sound outrageous to musicologists, but it's the feeling of a big band when I'm immersed in that piece. You have to forget the meters a bit and start swinging.
Unlike other concertos where the orchestra accompanies the soloist, in the Clarinet Concerto everyone is equally busy. It's just strings, piano, and harp, and they are so fully engaged. You can't just say, "Yeah, we'll lay back and let the clarinet play." The piece is just a jewel for conductors in that we are not waiting for the action to happen in front, we are very much part of the action.
Photo: Michal Novak

Boosey & Hawkes Composer News