Performer Picks: Colin Currie's top Boosey & Hawkes works
(March 2021)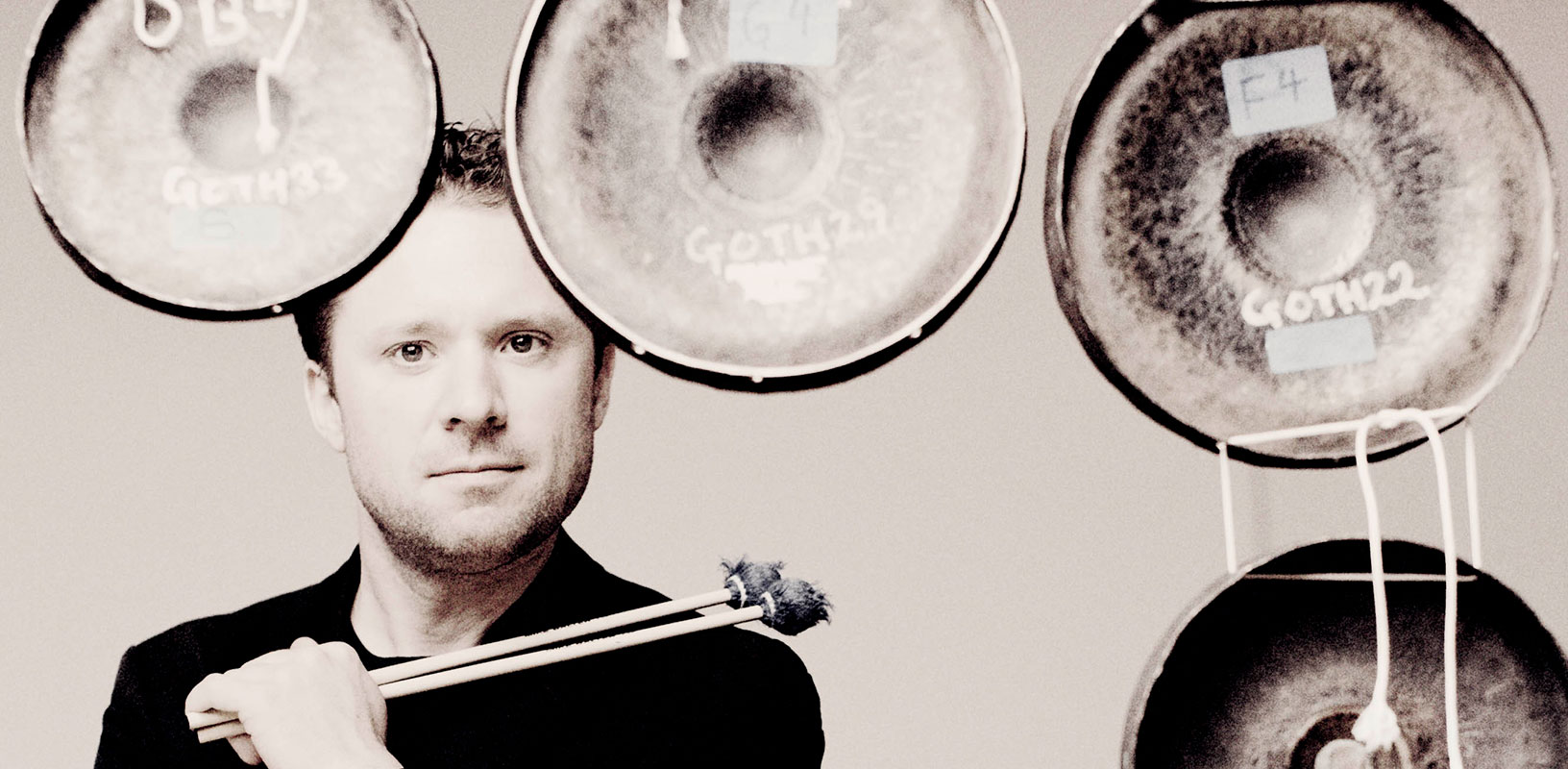 > Listen to Colin Currie's "Performer Picks" Playlist on Spotify
1. HK Gruber: Rough Music (1983)
Nali Gruber wrote his first percussion concerto Rough Music in the early '80s and I got my first chance to work on the piece together with him in Leipzig in 2001. He was in some ways exactly as I imagined he would be, and in other ways was much more brilliant, wonderful and inspiring. In the percussion canon you can spot certain breakthrough works that take everything up a level and Rough Music is one such piece. It's a fully mature concerto, which is very pure in musical argument and thought, treating the percussion instruments with total respect and providing precise indications of articulation and dynamics. I think Rough Music ends on a cliffhanger – it feels like there should be more to come, and indeed his second percussion concerto into the open… picks up where Rough Music ends, so it has been a recent thrill to release both works recorded together.
> Watch a video excerpt of our interview, in which Colin Currie describes performing Gruber's into the open… with the composer conducting.
2. Steve Mackey: Time Release (2005)
The arrival of Time Release was another paradigm shift not only for myself as a performer but certainly for the repertoire as a whole. From inception an ambitious work, the soloist must master a Mozartian fluency throughout, combined with groove, flair, panache, yet often with a bluesy charm so natural to Mackey's sensibilities. The concerto perfectly harnesses the tone and mood of the marimba, displaying dignity and depth as well as dexterity. I remain especially fond of the work and was thrilled to finally record it with the Boston Modern Orchestra Project with Gil Rose and in the presence of the composer, in October 2018.
3. Einojuhani Rautavaara: Incantations (2008)
Occupying a commanding position as the 'great romantic' percussion concerto in my view, Incantations is a bold and beautiful work, full of marvel and mystique. I was fortunate enough to meet and work with Rautavaara on the concerto, and visited him in Helsinki at relatively short notice for a 'meeting' following an initial speculative inquiry from my side. When I arrived at his apartment, I had scarcely taken my coat off before the endearing yet frail composer shuffled over to the piano and proceeded to perform the completed first movement of my concerto, with astonishing and rather sudden flair. Rooted to the spot, I scarcely knew how to respond before he turned to me with a gentle smile, asking simply "Now would you like to hear the slow movement?" An extraordinary experience.
He was kind enough to bring me in to collaborate on ideas for the finale and also asked me if I would consider composing the cadenza for the concerto, prominently placed as it is directly prior to the final and rousing recapitulation. I eagerly agreed and the cadenza that I wrote for the world premiere with the London Philharmonic Orchestra and recording with the Helsinki Philharmonic Orchestra is now published in the full score.
4. Louis Andriessen: Tapdance (2014)
Having met Louis via Steve Martland as a teenager and having fallen head-over-heels for works such as De Staat, De Materie and Trilogy of the Last Day, Andriessen was quickly onto my dream wish-list of composers. A pleasingly, teasingly slow burn, I would meet him on several occasions for meetings at his apartment in Amsterdam (for tea and 'cookies') before eventually a solid conception for the work took hold and Tapdance was born.
A deceptively upbeat title, the work in actual fact follows a rather tragic trajectory, with the cautiously spritely Charleston giving way quickly to darker undercurrents, and ending in the frankly funereal. The thematic material of Horace Silver's Senor Blues is seldom heard any quicker than half speed, and the big band noir sound of the ensemble paints a macabre picture of a bygone melancholia. For the soloist, each attempt to establish something upbeat is systematically thwarted, caving in finally to the inevitable and woe-begotten conclusion.
5. Steve Reich: Quartet (2014)
Quartet was co-commissioned for my group and is now widely performed in many territories all over the world. Reich wanted to challenge the trigger-concept of the 'quartet' as generally perceived in classical music. For him, given the choice, his optimum four would most certainly be comprised of two vibraphones and two pianos. The result is one of the most satisfying and engaging works I know as a chamber musician, and one in which each player may and should apply themselves with equal gusto.
The commission arose off the back of the burgeoning friendship between myself and Steve. He had first heard my ensemble live in 2011 and we had toured together subsequently in Europe and Japan. The patch of premieres for Quartet further strengthened this bond and he became equally close with Sam Walton, Simon Crawford-Phillips and Philip Moore (my quartet colleagues) over this period.
The work itself behaves like a 'departure piece' for the composer, with its constantly changing keys and chopping-and-changing material in the first movement. The heart of the work is the slow movement, with its pillars of dense chords and exotic, chromatic harmonies. The much-anticipated release of the finale comes with great zeal and indeed no little bite. A pure joy.
6. James MacMillan: Percussion Concerto No.2 (2014)
Jimmy MacMillan is as appealing to me as a friend with his great humility and softly spoken artistic fervour as he is for his extreme and emotional music. The idea for a second percussion concerto, inevitably some kind of sequel to the veritable warhorse of Veni, Veni, Emmanuel of 1992 appealed to me enormously, and we quickly and convivially fell into discussions about how the work might take shape.
Wisely, and perhaps not surprisingly, Percussion Concerto No.2 has much that is in contrast to his first concerto. It is a genuinely symphonic work, written for large orchestra, and is as bold as brass, or perhaps more especially the Aluphone and all the other metallic percussion used throughout. Interestingly, the opening melodic cell has much in common with that of Rautavaara's Incantations, being voiced as they both are in 2nds, with Jimmy's material gradually broadening and eventually overwhelming in chorale form and a jubilant conclusion.
Of the many works I play, I miss this one terribly much at this moment of embargo upon symphonic music, and I vow to return with 'JM2' as soon as is permissible, all fanfares blazing.
7. Mark-Anthony Turnage: Martland Memorial (2017)
Mark and I have been pals for such a long time, and we have so many great colleagues in common that it was only a question of 'when' rather than 'if' he would write me a concerto. However, neither of us could have imagined that the sudden loss of Steve Martland in 2013 would be the most unforeseen of catalysts for a new work, and following Mark's swift call to me following this most harrowing news, we set about making plans for this memorial.
The music strikes a curious tone, perfectly capturing Mr Martland and his paradoxical nature. Fiery, humorous, outrageous and tender-hearted, this musical biography is both extremely accurate and affectionate. The Rhumba has an edge, the Pavane great foreboding and the closing Lachryme a peculiar and melodic sense where, perhaps, Mark and Steve join forces for one last verse together. A poignant and strange work that enshrines love, loss, and remembrance - friendship, fragility and... the hornpipe.
Photo: Marco Borggreve

Boosey & Hawkes Composer News