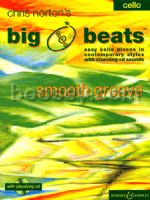 description: Cello, CD
ISMN 9790060114571
Publisher Boosey & Hawkes (London)
Availability: Stock Title
Level of Difficulty: Intermediate





Easy solo pieces in pop styles with state of the art CD accompaniments. Play the solo piece straight, or add the backing tracks and enter a whole new world of sound.


Chris Norton does it again with his unique blend of traditional technique with popular styles. Students will learn all about technique - rhythm, co-ordination and listening, but they'll be having so much fun, they won't know they're doing it!


Big Beats is available in six great-tasting flavours.


"Microjazz for the next generation, more dramatic, more interactive. It looks and sounds great - another surefire success" (Piano Magazine, December 2001)
Contents

Becalmed
Desert Air
From Far Away
Gatecrasher
Glass Ceiling
Part of the Machinery
Questing
Starstruck
Staying Upright
Underwater
---
Press Reviews
"The most interesting backing tracks I think I have ever heard and make good listening on their own ... I strongly recommend this edition for players of grade 3-5 standard with good rhythmic skills."
(Music Teacher Magazine, April 2003)
"Microjazz for the next generation, more dramatic, more interactive. It looks and sounds great - another surefire success"
Customer Reviews
"Ten little gems with a wide range of styles and great backing tracks. Lots of fun!"
Rating: 5/5 7/31/2004 By: Mike Hurrell
[Tell us what you think]