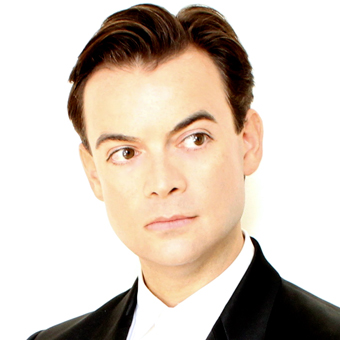 Dejan Lazić
b. 7 February 1977, Zagreb
Dejan Lazic, who was born in Zagreb on 7 February 1977, comes from a family of musicians. He grew up in Salzburg and studied at the Mozarteum there. As a pianist, he now performs all over the world, from New York's Lincoln Center to Tokyo's Suntory Hall and the Teatro Colón in Buenos Aires. He has toured North and South America, Australia and Asia and made his debut at the BBC Proms in 2011. Lazic has already released many CDs and is also a great enthusiast of chamber music.
In addition to piano, chamber and orchestral music, he also wrote cadenzas for selected piano concertos of the Viennese classics. The Piano Concerto in Istrian Style op. 18, which was premiered in the summer of 2014 and is repeatedly interpreted by Lazic himself, achieved great popularity. In addition, Lazic arranged the famous Violin Concerto in D major by Johannes Brahms for himself in order to publish it quasi as the Piano Concerto No. 3 by Johannes Brahms.
Dejan Lazic's refreshing interpretations of the repertoire have made him one of the most unique and unusual soloists of his generation. Spiegel magazine noted of his Liszt recording for Onyx Classics: "Grandiose technique, committed and witty, yet full-bodied and thoughtful: this longitudinal section through Liszt's oeuvre is a gift for beginners and connoisseurs alike." Dejan Lazic has previously released many recordings on Channel Classics, including a critically acclaimed Liaisons series; the latest of which combines C. P. E. Bach and Britten. In autumn 2017, he toured with the Netherlands Chamber Orchestra and Gordan Nikolic, recording Beethoven's own arrangement of his Violin Concerto as the Piano Concerto in D major, Op. 61a. The CD was released by Onyx Classics in May 2018. His live recording of Rachmaninoff's Piano Concerto No. 2 with the London Philharmonic Orchestra and Kirill Petrenko was awarded the German "ECHO Klassik" in 2009. A recording of Beethoven's Triple Concerto was released by Sony Music in 2015. His recording of Mozart's chamber music, released by Onyx in 2020, was awarded the prestigious "OPUS Klassik 2021" in the category "Chamber Music Recording".
Lazic performs regularly with orchestras such as the Atlanta Symphony, Australian Chamber Orchestra, Boston Symphony, Budapest Festival Orchestra, Basel Chamber Orchestra, Chicago Symphony, City of Birmingham Symphony Orchestra, Royal Concertgebouw Orchestra, Danish National Symphony, Helsinki Philharmonic, NDR Elbphilharmonie Orchestra Hamburg, Netherlands Philharmonic, Rotterdam Philharmonic and the Swedish Radio Symphony Orchestra. Lazic enjoys a significant following in the far east, touring China with the Budapest Festival Orchestra and Iván Fischer and performing with NHK Symphony and Yomiuri Nippon as well as the Seoul and Hong Kong Philharmonic Orchestras. He has established close collaborations with conductors such as Giovanni Antonini, Iván Fischer, Michael Francis, Andris Nelsons, Ivan Repušic, Thomas Søndergård, Robert Spano, John Storgårds, Krzysztof Urbanski, Jan Willem de Vriend and Kazuki Yamada. In addition, he increasingly leads and conducts the orchestras himself.
In the 2021/2022 season, Dejan Lazic will be Artist in Residence with the Munich Radio Orchestra of the Bavarian Radio and will tour with the Budapest Festival Orchestra and Iván Fischer. In 2022 and 2023 he is also to make his debut with the Philharmonic Orchestras of Dresden, Stuttgart and Bergen, the Slovak Philharmonic Orchestra, and the Orchestra della Svizzera italiana. Recitals regularly take him to venues such as the Teatro Colón (Buenos Aires), Lincoln Center (New York), Melbourne Recital Centre, Forbidden City Recital Hall (Beijing) and to various European music centres and festivals. In the summer of 2022 he performed again at the Gstaad Menuhin Festival: in a solo and a chamber music evening with Sol Gabetta (cello) and Zen Hu (violin), where his composition Kaleidoscope for violin, cello and piano was also premiered. Among other chamber music partners are the violinists Joshua Bell and Benjamin Schmid.
Dejan Lazic's compositions receive great recognition. He has been under contract as a composer with Sikorski Music Publishers since 2015. His arrangement of Brahms' Violin Concerto as a piano concerto was premiered and recorded in 2009 with the Atlanta Symphony Orchestra and Robert Spano and enjoys continued success: at the BBC Proms, Concertgebouw Amsterdam, Hamburg Easter Festival, Chopin Festival Warsaw, in America and Japan. Lazic has performed his Piano Concerto in Istrian Style, Op. 18, many times since its premiere at the Aspen Music Festival in 2014. His first major orchestral work, a tone poem entitled Mozart and Salieri (after Alexander Pushkin), Op. 21, was commissioned and premiered by the Indianapolis Symphony Orchestra and Krzysztof Urbanski; his cadenzas to 6 Mozart's Piano Concertos, Beethoven's Piano Concertos Nos. 1 - 4 and Haydn's Piano Concertos Nos. 4 & 11 were also published by Sikorski.
Biographies may be reprinted free of charge in programme booklets with the following credit: Reprinted with kind permission of the music publisher Boosey & Hawkes/Sikorski