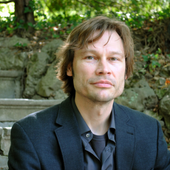 Marius Felix Lange
b. 1968
The Music of Marius Felix Lange
Marius Felix Lange was born in 1968 in Berlin. He received his first violin instruction at the age of eight and his first piano instruction at the age of eleven. From 1980 until 1987 he was a preparatory student of S. Gawriloff and T. Tomaszewski at the Julius Stern Institute of the Academy of the Arts in Berlin. During this period he received numerous prizes as a violinist at 'Jugend musiziert' [Youth Making Music] and at chamber music competitions.
Of lasting significance for him were his membership in the Festival Orchestra of the Schleswig-Holstein Music Festival under Leonard Bernstein (1987), and especially his encounter with Sergiu Celibidache, under whose direction in 1987 and 1988 he was a member of the Orchestral Academy of the Schleswig-Holstein Festival. Following violin studies in Cologne (S. Gawriloff) and Klagenfurt (H. Fister), Lange began studying music pedagogy in 1993 in Stuttgart, which he expanded from 1997 until 2000 with the subjects of jazz and popular music and completed in 2001 with the 1st State Examination. His first compositions were also written in Stuttgart.
From 1998 until 2002 he studied film music and sound design at the Baden-Württemberg Film Academy as well as composition with Ulrich Leyendecker in Mannheim beginning in 2001 (diploma in 2006).
In September 2002, Lange was music director of the opening production of the Ruhr triennial Deutschland, deine Lieder [Germany, Your Songs] under the direction of Matthias Hartmann (Intendant Gérard Mortier). In 2004 he was a scholarship holder at the Bayreuth Festival. An essential highlight of his career was winning first prize at the First International Composition Competition in Cologne for the opera for children and adults Das Opernschiff oder Am Südpol, denkt man, ist es heiß [The Opera Ship, or One Thinks It's Hot at the South Pole] to a libretto by Elke Heidenreich. After his opera Snow White (world premiere Cologne Opera, April 2011, new production in French in December 2012 at the Opéra national du Rhin in Strasbourg, Colmar, Mulhouse and Paris), his grand family opera Das Gespenst von Canterville [The Canterville Ghost], was premiered in November 2013 at the Zurich Opera House.
He has received a composition commission from the opera houses Düsseldorf/Duisburg, Dortmund and Bonn for a grand family opera to be premiered during the first half of the year 2014 (libretto by Martin Baltscheit). In June 2012 Lange received a honorable mention at the international encore composition competition of Hilary Hahn, who performed his piece Nutcracker's Nightmare.
Other selected compositions by Marius Lange include the vocal works Drei Liebeslieder [Three Love Songs] for soprano and string sextet (text: Rainer Maria Rilke and Friedrich Nietzsche, 2000), Drei Lieder für Kinderchor [Three Songs for Children's Choir] to texts of Christian Morgenstern and Friedrich Nietzsche (2007) and the ballade Der Zauberlehrling [The Sorcerer's Apprentice] for baritone and piano (text: Johann Wolfgang von Goethe, 2012) as well as the orchestral pieces Das Orchester zieht sich an [The Orchestra gets Dressed] for speaker and orchestra (text: Karla Kuskin, 2009), Medardus. Szene für Orchester [Medardus: Scene for Orchestra] based on E.T.A. Hoffmann (2009) as well as norðr (2012)