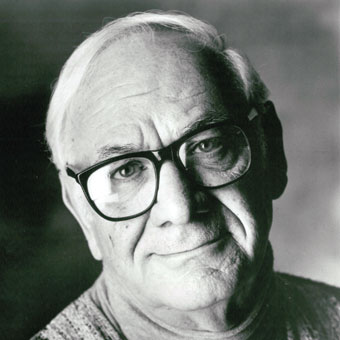 Dominick Argento
1927 - 2019
An introduction to Argento's music
by Heidi Waleson
"I think most composers can be divided into those who feel that the essential function of music is emotional, as opposed to those who find its essential function to be intellectual. I am committed to working with characters, feelings and emotions."
Dominick Argento
Dominick Argento is a true American Romantic. Inspired by character and incident, by a literary source or the atmosphere of a particular city, he creates richly melodic operas, song-cycles and works for orchestra and for chorus. Argento's pieces are built with wit and passion, and always with the dramatic shape and color that make them theater. They speak to the heart.
Argento was born in Pennsylvania but has spent much of his life in Minneapolis, Minnesota, where he went to teach in 1958. Eschewing the trends and fashions of the contemporary music world he developed his own tonal, expressive style, and helped to nurture a public that responded to it. He was co-founder of the Center Opera Company later to become the Minnesota Opera, which has premiered many of his operas. He wrote music for the new Guthrie Theatre, the Minnesota Orchestra, the St Paul Chamber Orchestra, the Dale Warland Singers and other institutions in the Twin Cities of Minneapolis and St Paul. For Minnesota, Argento has been a sort of unofficial composer-in-residence.
Yet his works, notably the operas, have gone beyond the borders of his adopted state. Postcard From Morocco has been performed across the US and overseas, The Voyage of Edgar Allan Poe was acclaimed in Sweden, and Casanova's Homecoming, a hit at the New York City Opera, made its European debut in Germany. His grateful writing for voice has attracted distinguished international artists to perform specially-composed song-cycles: the Pulitzer prize-winning From the Diary of Virginia Woolf written for Janet Baker, The Andrée Expedition and A Few Words About Chekhov for Håkan Hågegard, and Casa Guidi for Frederica von Stade.
Argento's secret is the masterful evocation of place and feeling with his soaring lines for voice, his color-filled orchestrations. From the haunting, intimate domesticity of Casa Guidi, a setting of the letters of Elizabeth Barrett Browning, and the comedy and despair of A Water Bird Talk, to the Parisian lilt of Capriccio for Clarinet and Orchestra and the joyful outbursts of A Ring of Time, inspired by the bells and churches of Florence, the composer's beloved second home, Argento's music speaks to his audiences with a singular freshness and ardour.
Heidi Waleson, 1987
(Opera critic for The Wall Street Journal and classical music
columnist for Billboard)