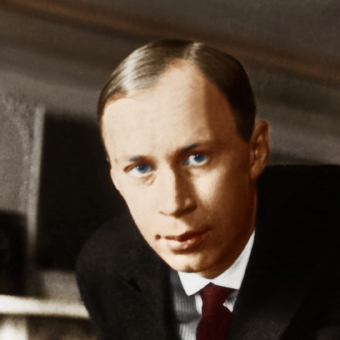 Serge Prokofieff
1891 - 1953
An introduction to Prokofieff's music
by David Nice
To a wider public, Prokofieff will always be associated with Peter and the Wolf, Romeo and Juliet and the March from The Love for Three Oranges – which is, perhaps, as it should be; no twentieth-century composer has had a readier facility for finding the right melodic gesture or the right instrumental clothing to match the character or visual image in question. He pursued this genius down a fruitful path to his two miraculous collaborations with Russia's greatest film-maker, Sergei Eisenstein, and the gallery of more than sixty individuals who people his masterly operatic selection of scenes from Tolstoy's War and Peace. The 'basic lines' of development he set down in his 1940 autobiography – the classical, the modern, the motoric and the lyric – certainly helped him in his breadth of characterisation, and they are to be found, already fully fledged, in the early piano pieces he composed as a student at the St. Petersburg Conservatoire.
Yet there is another Prokofieff, a more profound musical thinker whose deeper qualities we are only beginning to appreciate. This new recognition comes in the aftermath of Soviet efforts to denounce his decadent Western products, and of Western critics' readiness to assess as mere communist propaganda the remarkable 'official' works he composed following his return to Russia in 1936. No doubt his sufferings under Stalin helped to shape the uncompromising arguments of the so-called 'war' sonatas for piano (Nos.6–8) and Symphony No.6, as well as the sublime simplicity of his last works; but there are disturbances, too, in portions of his early, Dostoyevsky-based study in obsession The Gambler and the elaborately-scored cauldron of his 1920s opera The Fiery Angel. The latter work shares with the roughly-contemporary Symphony No.2 a wealth of thematic material embedded in a consciously modern, age-of-steel framework. Following the apparent failure of such ventures, Prokofieff turned his back on density and complexity, but his conscious development of a new and noble strain of melodic writing – foreshadowed in the opening theme of Violin Concerto No.1, and reaching its first full expression in his last ballet for Diaghilev, The Prodigal Son – was no compromise; if anything, it is his most original contribution to 20th century music.
He succeeded in every form – continuing the Mussorgskyan line of natural declamation in his operas and later songs, proving to be the natural heir to Tchaikovsky in ballet, turning his own pianistic virtuosity to powerful expressive purposes in the concertos and solo pieces, constantly refining his orchestral effects from the consciously noisy Scythian Suite through to the poignant and underrated Symphony No.7. His highly original attempts to write public cantatas for Stalin's era – unsuccessful at the time – and his deft incidental music for a series of abortive Pushkin projects, both facets of his output at last beginning to be acknowledged, give us a broader picture of his creative breadth. It is Shostakovich who has tended to be labelled as the chronicler of Soviet history, but Prokofieff, with his stronger gift for original melody and his wider-ranging use of the orchestra, may continue to surprise us the more.
David Nice, 1995
(Lecturer, broadcaster and music journalist for Gramophone and BBC Music Magazine with a special interest in Russian music, Richard Strauss and opera)