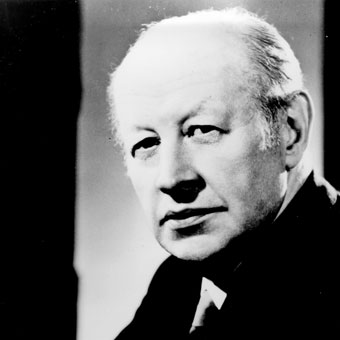 Eugene Goossens
b. 26 May 1893, London
d. 13 June 1962, Hillingdon, London
Eugene Goossens was born into a family of musicians: his grandfather (who moved to Britain from Belgium in 1873) and father, both called Eugene, were prominent conductors, mainly of opera; Eugene's brother Leon was one of the most distinguished oboists of the twentieth century, his sisters Marie and Sidonie were harpists, and another brother, Adolph, who was killed in the First World War, played the horn.
Eugene Goossens (III) was born in London on 26 May 1893, though the family home was in Liverpool. At the age of eight he was sent to boarding school in Bruges, and at ten he began to study music in the Conservatory there, as his grandfather had done; from the age of thirteen he attended the Liverpool College of Music. In 1907 he went to the Royal College of Music in London, studying violin and, from 1910, composition, with Sir Charles Villiers Stanford and with Charles Wood.
He had begun to conduct as a student, and in 1913 he conducted one of Sir Henry Wood's Promenade Concerts at the Queen's Hall. Initially, though, he earned his living as a violinist, playing in several string quartets. In January 1916 (a heart condition having saved him from war service) he stood in for Beecham at the first performances of Stanford's opera The Critic, and thus began a fruitful relationship with Beecham as protégé and deputy.
In 1921 he established an orchestra for five concerts of modern music, one of which (7 June 1921) included the first UK performance of The Rite of Spring, in the presence of Stravinsky, Diaghilev and Massine. Diaghilev responded by engaging Goossens to conduct the Ballets Russes. In 1923 Goossens was appointed conductor of the Rochester Philharmonic in upstate New York, and in 1931 he became conductor of the Cincinnati Symphony Orchestra, remaining there until 1946. The next year he took up the position of director of the New South Wales Conservatory of Music, a post he held until 1956, by which time he was also chief conductor of the Sydney Symphony Orchestra. He was knighted in 1955. He resigned his posts in 1956 and spent the rest of his career working free-lance until his death on 13 June 1962.
Although Goossens' first compositions were small-scale – piano pieces, songs, chamber music – he was writing confidently for orchestra from early on, producing the Variations on a Chinese Theme (1911), Miniature Fantasy for strings (1911), Perseus, a symphonic poem (1914), and Ossian, a symphonic prelude (1915). At this stage his music generally shows the influence of the French school, Debussy in particular. His First Symphony was completed in 1940, in Cincincatti, and the Second Symphony was premiered in 1946. Goossens composed two operas, Judith (1925) and Don Juan de Mañara (1934), a massive oratorio, Apocalypse (1951), and a generous quantity of other works, orchestral, chamber, instrumental. His music was lost from sight for some years after his death but began to re-emerge from the mid-1990s with recordings from the Australian Broadcasting Corporation.
Eugene Goossens is published by Boosey & Hawkes.
This biography can be reproduced free of charge in concert programmes with the following credit: Reprinted by kind permission of Boosey & Hawkes