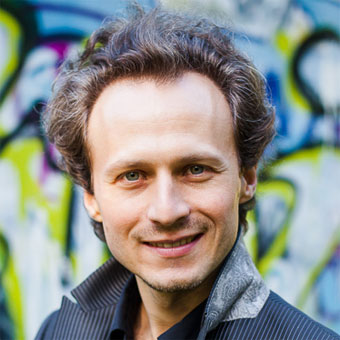 Leon Gurvitch
b. 1979, Minsk
Pianist/composer/conductor LEON GURVITCH was born into a musical family in Minsk, Belarus. Gurvitch studied piano, violin, and oboe, and graduated as a conductor from the Belarussian Music Academy, continuing his studies at the Music and Theatre Academy in Hamburg, Germany.
Since 2001, he has been a resident of Hamburg where, in addition to his international touring and concertizing, he is more than 12 years an assistant professor at the Johannes Brahms Conservatory (Germany). As a composer, he has authored more than 300 compositions and arrangements of orchestral, chamber, vocal, choral and solo instrumental compositions. His creative roots are in the classics, where he cites Stravinsky, Ravel, Bernstein and Brubeck as a few of his influences, and his compositions also find inspiration in music of the Far East, Latin America, Klezmer, Russian folk, jazz and world music.
In 2001 Gurvitch founded the Leon Gurvitch Project, conceived as a musical genre-crossing ensemble with outstanding musicians, influenced from many corners of the world. The Group gave successful performances at numerous international festivals such as Leverkusener Jazztagen, jazz festivals in Berlin, Hamburg, "jazzahead" in Bremen, Yuri-Bashmet-Festival in Dortmund, Klezmore Vienna, as well as festivals in Amsterdam, Prague, Lodz and Breslau.
Leon Gurvitch's versatility was further demonstrated as composer for the 2001 film "Death Game" by Oscar-nominated Menahem Golan. Gurvitch conducted the premiere of Philip Glass's opera "Les Enfants Terribles" in Hamburg, and in Berlin in 2006 he was awarded an international prize for his composition "Golden Chanukah".
Other credits include collaborations with the Hamburg State Opera, The North German Radio Symphony Orchestra (NDR), Berliner Camerata and legendary German theatre director Peter Zadek.
In 2013 he composed a "Musical Phantasy on Poems by Daniil Charms" performed in the Hamburg State Opera/Opera Stabile.
Gurvitch's first album, Eldorado" was released in 2010 and featured Grammy Award-winner Frank London of The Klezmatics, followed in 2014 by a solo piano CD "Remember Me" both released by Morgenland/Naxos.
In 2015, Gurvitch's "5 Dances in Old Style" for string orchestra was performed by the Chamber Philharmonic Orchestra of Frankfurt at a Berlin Bundestag benefit entitled "Classic for Peace"
The composer's other works have been performed throughout the world, including the Kennedy Center in D.C., the Palais des Beaux-Arts in Brussels, the Moscow Tchaikovsky Conservatory, Cite des Arts in Paris, in New York, Berlin, Amsterdam, Vienna, Milan.
In 2015 Gurvitch was nominated for the Hamburg Music Award as "Musician of the Year", in 2016 Composer & Pianist in Residence by Stella Adler Studio of Acting (NYC).
One of the largest independent classical American labels "Centaur Records" released a solo piano CD of Leon Gurvitch in 2017.
2017 – Debut at Carnegie Hall, New York.
Works by Leon Gurvitch are published by Boosey & Hawkes.